Bev Day, O.W.L. Orphaned Wildlife Rehabilitation Society, Canada, visits Taiwan Endemic Species Research Institute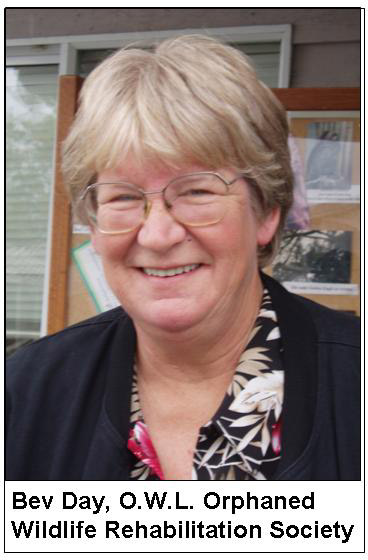 Bev Day, Founding Director of O.W.L Orphaned Wildlife Rehabilitation Society, Delta, British Columbia, Canada, spoke to scientists at the Taiwan Endemic Species Research Institute, in Chichi, Nantou County on May 6, 2007. The topic of Ms. Day's presentation was "A Blueprint for Rehabilitation." Since 1985, the Orphaned Wildlife Rehabilitation Society has been a non-profit organization whose volunteers are dedicated to public education and the rehabilitation and release of injured and orphaned birds; http://www.owlcanada.ca.
The Taiwan International Birding Association team visiting TESRI with Bev Day and Ralph Smith included Professor Chen Ching-shia, Simon Liao, Jo Ann MacKenzie, Linda Kao and Novia Liu. Jo Ann gave a speech on "Birding in Taiwan; Ecotourism on a Beautiful Island." Dr. Chan Fang-tse and Yao Cheng-te of TESRI escorted the TIBA group on a tour of the extensive TESRI facilities.
In 2003, three representatives from Taiwan spent one month volunteering in Canada at O.W.L. on an information exchange program. It is expected that a similar exchange for furthering bird rehabilitation knowledge will be arranged in the near future.