TAIWAN INTERNATIONAL BIRDING ASSOCIATION
The Taiwan International Birding Association was formally registered as a not-for-profit society on May 21, 2005, at a meeting at the Council of Agriculture, Taipei, Taiwan. Officers elected: Yang Chung-tse, Chairman; Lin Maw-nan, Vice Chairman; Tso Chien-hui, Executive Secretary; Zheng Shu-kai/Kerry Zheng, Treasurer.
Our objective is to encourage birding eco-tourism in Taiwan.
TIBA was first organized as the International Taiwan Birding Association in July, 2003, in Richmond, British Columbia, Canada. Officers appointed were: Simon Liao, President; Dr. Robert Butler and Dr. Shing Kuo Shih, Vice Presidents; Jo Ann MacKenzie, Executive Secretary; Karen Shih, Treasurer. After TIBA came into being in Taiwan, ITBA continued to operate as a parallel branch in Canada. On March 17, 2007, ITBA merged with TIBA, and remains as the Canadian chapter, under the name of the Taiwan International Birding Association (Canada).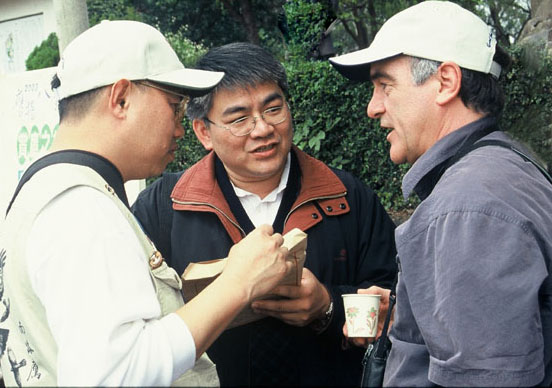 L to R: Simon Liao, President, TIBA; Zheng Shu-kai/Kerry Zheng Treasurer, TIBA; Dr. Robert Butler, Vice President, TIBA