Trip Report:
BIRDING IN TAIWAN, MAY 2–11, 2005,

for Fairy Pitta

Leaders: Simon Liao and Ten-Di Wu

(E) = Endemic

Taiwan is a mountainous island in the South China Sea, about 160 km (100 miles) off the Chinese mainland. The forested beauty of the island led Portuguese sailors in 1590 to name it Ilha Formosa, meaning "Beautiful Island." The tropic of Cancer passes through the southern part of the island.

Monday–Tuesday, May 2–3 Day 1 Taipei to Kukwang

Our EVA Airways flight departed Vancouver at 1:50 a.m. Pacific Daylight Time on May 2, arriving at Chiang Kai-Shek International Airport, Taoyuan, 50 km west of Taipei, at 5:10 a.m. on May 3. We transferred to our comfortable bus. Taiwan's rainy season had begun only a few days before, but our leader, Simon Liao assured us that we would drive out of the wet conditions as we went south, and we did. The Tung trees Aleurites Montana, (called "May Snow" because the fallen blossoms carpet the ground like snow), were in flower.

<![if !mso]><![endif]>

Near Taichung, we picked up our co-leader, Ten-Di Wu, and assistants Linda Kao and "Kite" Liu. Heading southeast into the hills toward Wufeng, we made our first attempt to find Fairy Pitta, but although we heard a calling bird, we could not locate it. Other species in this area were Light-vented Bulbul (abundant), Black-browed Barbet, Plain Prinia, Brownish-flanked Bush-Warbler, Collared Finchbill, Crested Serpent-Eagle, Crested Goshawk, and Malayan Night-Heron (on nest). Continuing farther into the hills, in the vicinity of Tunglin village, we found Formosan Magpie (E), Gray-spotted Flycatcher, Gray Treepie, Gray-cheeked Fulvetta, Rufous-capped Babbler, Gray-capped Pygmy Woodpecker, and Yellow-browed Warbler. Leaving the village, we came across a Japanese Sparrowhawk and 2 migrant Chinese Goshawks. Continuing on, we arrived at Kukwang on the Tachia River after dark, and settled into the Four Seasons Resort for the night.

Wednesday, May 4 Day 2 Kukwang to An Ma Shan

Early morning birding on the Shaulai Trail above the hotels produced Collared Scops-owl, Varied Tit and more Formosan Magpies (E), but otherwise was very quiet. We saw Plumbeous Redstarts along the Tachia River. We moved on to the Ba Sian Shan ("Eight Fairy Mountain") Recreation Area, where there were more Collared Finchbills, Gray-chinned Minivets, a Gray-capped Pygmy Woodpecker, and a Black-backed Wagtail. Continuing along the Tachia River, we walked part of Sarlien Lane. White-bellied Yuhina, Streak-breasted Scimitar Babblers were seen, and most of the group had good looks at [Taiwan] Hwamei.

<![if !mso]><![endif]>

After lunch in Tungshih, we transferred from our bus to 3 vans for the continuation of the drive to An Ma Shan. The road to An Ma Shan Forest Recreation Area had been severely damaged by typhoons during the summer of 2004. Officially, the road was "closed", but we had permission to travel on the temporary road which provided the only access to the mountain. Forest workers, wardens and a small maintenance staff for the buildings still required access, so a temporary, bridge had been constructed. Our bus was too big to use the temporary bridge, requiring us to change to the vans. On the way, we stopped at Km 15 and again at Km 23, the "Lookout", where there is a sturdy viewing platform overlooking white-flowered Idesia polycarpa trees. On this day, there was noisy heavy equipment working at the bend of the road. There were few birds, except for White-eared Sibia (E). Resuming our drive, we soon saw why the bus could not make this journey. The typhoons had caused a large part of the mountainside to break away and plummet into the valley below, taking the road with it. For a stretch of about 200 m, the missing road had been replaced by a temporary single-lane bridge of wooden planks, supported by steel pylons anchored to the rock face far below. The bridge was just wide enough for our vans to get through. We arrived at An Ma Shan Forest Reserve, elevation 2300 m (7500 feet), in the late afternoon. In the fading light, a party of Steere's Liocichla (E) foraged just below our cabins.

Thursday, May 5 Day 3 An Ma Shan Forest Reserve

Birding on Trail 210 at 5 a.m: The first bird of the morning was Gray-faced Woodpecker, followed by Black-throated Tit, Taiwan Yuhina (E), Red-faced Warbler, Eurasian Jay, Gray-headed Bullfinch, Gray-throated Minivet, Green-backed Tit, Vivid Niltava, White-eared Sibia (E), Ashy Wood-Pigeon, Vinaceous Rosefinch, and a single Silver-backed Needletail. From the valley below, came the call of the Taiwan Partridge (E). Historically, this has been a good place to find Mikado Pheasant, and sometimes Swinhoe's Pheasant, but today we were not lucky.

In mid-morning, we moved up to Trail 220 at Km 39, but shortly beyond the trailhead, we found the way blocked by a rockfall, caused by a combination of typhoon and earthquake. We saw White bellied Pigeon and heard White-browed Shortwing.

Driving higher, we saw Black Eagle and Great-spotted Eagle as they flew over the valley. Arriving at Hsaio Xai Shan ("Little Snow Mountain"), elevation 2600 m (8500 ft.), we walked part of Trail 230, seeing White-whiskered Laughingthrush (E), Collared Bush-Robin (E), Coal Tit, Eurasian Nutcracker and an agitated Yellow-bellied Bush-Warbler. Some of the group ventured farther, encountering a trail wash-out and glimpsing a Taiwan Serow, an endemic herbivore.

Friday, May 6 Day 4 An Ma Shan to Douliou

We returned to Trail 210 in the early morning, hoping for better success with pheasants, but it was not to be. South winds were blowing strongly, preceding a storm front. One person saw Taiwan Barwing (E).

As we ate our picnic breakfast near the park entrance, 4 White-throated Laughingthrushes moved through the trees behind us. We drove the road to Hsiao Xai Shan again, hoping for pheasants, but still were not lucky. Rain began.

We drove to the lowlands, to Lugang, in pouring rain. The rain abated somewhat as we went to a large open field on the outskirts of the city, which held several species, including Oriental Skylark, Zitting Cisticola, and a briefly-glimpsed Black-capped Kingfisher.

We went to Hambao wetland in drizzle; the wind continued. We saw Little Egret, Curlew, Sharp-tailed and Marsh Sandpipers, Ruddy Turnstone, Red-necked Stint, Lesser Sandplover, and Oriental Plover, a rare vagrant in Taiwan, in a rice paddy.

As the rain stopped, we made our way to the Choushui River to watch for Allied Nightjar at dusk. Some birds seen in addition to the nightjars were Cinnamon Bittern, Golden-headed Cisticola and Oriental Pratincole.

<![if !mso]><![endif]>

We continued to the Metro Hotel in Douliou (Touliu) for the night.

Saturday, May 7 Day 5 Douliou to Kuang Tselin Hot Spring

We made an early start for the hot, lush, dense lowland forest of Mango Valley. We walked a short distance along the small, quiet stream that flows through the valley bottom. After a while, we saw a beautiful Fairy Pitta (and heard more), as well as Rufous-capped Babbler, Collared Finchbill, Black Bulbul and Black-naped Monarch. The sharp, double-whistle call of the Fairy Pitta can be heard a kilometre away, but seeing the bird requires patience.

<![if !mso]><![endif]>

At the Aougo (Aouwu, Aoku) Wetland, there were Little Grebe, Yellow and Cinnamon Bitterns, many herons, egrets, Common Moorhen, Black-winged Stilt, Pacific Golden and Black-bellied Plover; Greater and Lesser Sandplover, Snowy Plover,

Common Greenshank; Marsh, Green, Terek and Common Sandpipers, and Red-necked Stint. A White-breasted Waterhen made a very brief appearance in a water-filled ditch. Across the road, a Red-collared Dove was found caught an illegal net. The bird was extracted from the net, photographed and released unharmed.
Farther south, in the Putai town vicinity, we discovered 9 late-lingering Black-faced Spoonbills, along with many waders, including Spotted Redshank. At the Pachang River Mouth, there were Eurasian Curlew, Terek Sandpiper, as well as Little, Whiskered and Black-naped Terns.
We turned west into the hills, arriving at Kuang Tselin (Kuantzuling) hot Springs after dark. A Mountain Scops-Owl called near our hotel, and was seen by some of the group.
Sunday, May 8 Day 6 Kuang Tselin to Kenting
After our early outdoor breakfast, we watched a Formosan Whistling-Thrush (E) carry food to a concealed nest in the eaves of the house cross the road. Then we headed to the Tsengwen Dam area. The best birds there were Chinese Bamboo Partridge and Dollarbird (rare).
Next, we went to the Kwangtien (Guantian) Wetland where we saw 3 Pheasant-tailed Jacanas resplendent in breeding plumage. Simon and Ten-Di received a tip that 2 Chinese Egrets had been found at Chiku the previous day, so we headed back to the coast to look for them. After some searching, we were successful in relocating one.
We turned south once more and headed for Kenting (Kending) in Taiwan's tropical far south. Before going to our hotel, we stopped at Long Luan Tan Lake at dusk, finding Chinese Pond Heron and Bar-tailed Godwit as another storm approached. Thunder, lightening and more rain arrived during supper. We checked in at the Seaview Resort.
Monday, May 9 Day 7 Kenting to A Li Shan
Styan's Bulbul (E) is found only in the extreme south and east of Taiwan. In appropriate habitat, this endemic bulbul is easy to find. Like the very common Light-vented Bulbul, Styan's can be found in Kenting city, and in the countryside.
We went out at 5 a.m., returning to Long Luan Tan Lake. We had better success than in the previous evening, finding

Chinese Pond Heron, Ruddy-breasted Crake and White-breasted Waterhen. We returned to the Seaview Resort for breakfast, then departed northward, to Inda EcoFarm, the only place in Taiwan where Black-naped Oriole can still be reliably found. We saw 4 of these orioles, including a female on a nest. As we had still not found Maroon Oriole, we spent some time in the Chung Pu town area, searching. At last, success!

<![if !mso]><![endif]>

We began to climb toward A Li Shan, arriving at A Li Shan Forest Recreation Area, the Ying Shan Hotel in A Li Shan village, after dark. We looked forward to having the next day in "high mountain" habitat again. Unfortunately, heavy rain and wind began again, and continued all night.

Tuesday, May 10 Day 8 A Li Shan to Shihmen Dam

In the morning, rain was still pouring, and our driver, Mr. Shih, was worried about the possibility of rockfalls on the road trapping us (or worse) on the mountain. He advised us to leave, quickly, and we agreed that it would be prudent to do so. We started down, having to stop twice to roll rocks off of the road.

We had better luck in lowland rice field habitat at Dar Hsi Choi ("Big Stream Little House") near Chiayi, finding Greater Painted-Snipe, Yellow Wagtail and a Red-billed Starling, in the rain.

We continued north to the Shihmen Reservoir area, in the foothills of Taoyuan County. Continuing rain and fog precluded further birding for the day. Night at the Howard Lake Resort.

Wednesday, May 11 Day 9 Shihmen Dam to Taipei

We headed for Taipei for a very special event; an hour's meeting with Taiwan's President Mr. Chen Shui-bien in the President's Office, regarding birding eco-tourism and conservation issues in Taiwan. At the conclusion of the meeting, he showed us the Heritage Room, decorated with many aboriginal motifs, adjacent to the reception room.

After lunch, and some shopping at the extensive Chinese Handicraft Mart, we had an opportunity to see a little of Taipei. We visited the Hsing Tien Temple, a Taoist temple dedicated to Kwan Yu, the male counterpart of Kwan Yin, the Goddess of Mercy.

After supper, it was time to return to Chang Kai-Shek International Airport for the return flight to Vancouver.

- - - - - - - - - - - - - - - - - - - - - - - - -

We saw 9 of 15 endemic species and heard another (Taiwan Partridge).

The total bird species for the trip was 162; 158 seen, 3 heard only, and 1 seen by a leader only.

For more information, contact:

Simon Liao, simonliao0624@yahoo.com.tw, Taiwan, or

Jo Ann MacKenzie, j.a.mackenzie@telus.net, Canada

International Taiwan Birding Association, www.birdingintaiwan.com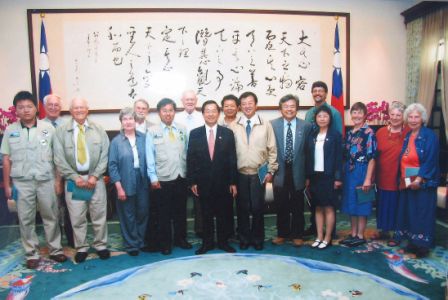 President Chen Shui-bien (center), Heritage Room, the President's Office, Taipei,
May 11, 2005.
Photo provided by Public Affairs, Office of the President.