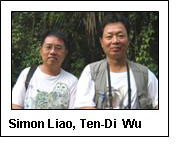 Trip Report: BIRDING IN TAIWAN, NOV. 8–17, 2004 Printable Version
Leaders: Simon Liao and Ten-Di Wu
Text and photos: Jo Ann MacKenzie, except as noted
(E) = Endemic
Taiwan is a mountainous island in the South China Sea, about 160 km (100 miles) off the Chinese mainland. The forested beauty of the island led Portuguese sailors in 1590 to name it Ilha Formosa, meaning "Beautiful Island." The tropic of Cancer passes through the southern part of the island.
We had intended to go to An Ma Shan Forest Reserve, where we had been so successful in November, 2003, for our high mountain habitat days. However, severe typhoons in August and September destroyed road access to that area, making An Ma Shan temporarily inaccessible. We went to the Meifeng area, in north-central Taiwan, instead.
("Shan", pronounced "sahn", means "mountain" in Mandarin.)
Monday–Tuesday, Nov. 8–9 Day 1 Taipei to Huisun Forest Station
The EVA Airways flight from Vancouver, BC, Canada arrived about 5:30 a.m., Nov. 9, having departed Vancouver the night before. After loading our gear into our small bus with the aid of our helpful driver, Mr. Chen, we set off southward toward Taichung, where we would pick up co-leader, Ten-Di Wu. As soon as the early morning light permitted, our birding began. Black-crowned Night-Herons streamed overhead, heading inland to spend the day. In rice paddies along the way, there were Grey Herons, Great and Little Egrets. High above the right-hand side of the bus a Black-faced Spoonbill was flying parallel with us.
After Ten-Di joined us, we turned east, leaving the heavily populated western plains, and beginning to climb. We noted Red-collared Dove and Eurasian Tree Sparrow, Crested Myna, Black Drongo, Japanese White-eye, Light-vented Bulbul, and Pacific Swallow.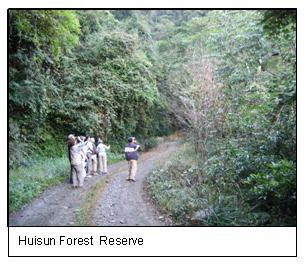 About 11:00 a.m., we arrived at the Atayal Resort in the Huisun Forest Station, elevation 770 m (2530 feet). Moments after leaving the bus, we saw our first Taiwan endemic, two Formosan Magpies (E) in the trees beside the parking area. Within a few more minutes, we spotted a Malayan Night-Heron under small trees at the edge of the forest on the mountainside. That was followed by Daurian Redstart.
In the afternoon, we went up the steep path (200 steps) on the slope above the resort and into mixed deciduous-conifer forest. We came out onto a gravel roadway, with another path continuing steeply upward. Taking that path, we found Ashy Wood-Pigeon, Black-browed Barbet and Gray-capped Woodpecker. Small birds seemed to be everywhere. We descended the high path and began to walk up the less steep rough roadway. There was much to see: Gray-chinned Minivet, Grey Treepie, 14 Black Bulbuls, Pale Thrush, Rufous-capped Babbler, White-bellied Pigeon, and White-bellied Yuhina. Eight Chinese Bamboo Partridge burst from the narrow ditch beside the roadway, disappearing into the undergrowth.
The late afternoon light was fading, so we turned around and started down. Suddenly, far ahead, there was a male Swinhoe's Pheasant (E) on the road! Elated, we returned to the resort for supper.
Wednesday, November 10 Day 2 Huisun to Chingching
At 5:30 a.m. we gathered on the road above the resort. In the far distance, a Mountain Scops-Owl was calling. We trekked up the 200 steps into the forest area that had been so productive the previous afternoon. Our early start was rewarded with 3 Swinhoe's Pheasants (E)! Two more Formosan Magpies (E) seemed to follow us, sometimes accompanied by Gray Treepies. There were more Gray-cheeked Fulvettas, Black Bulbuls, Green-backed Tits, Varied Tits, Japanese White-eyes and House Swifts overhead. Two Maroon Orioles flew out from the forest edge, and immediately back in again; a quick glimpse for only part of the group.
After breakfast, we left Huisun Forest Station. Our destination was high mountain habitat in the Meifeng area, but to get there, it would be necessary to go down, then back up by another route, passing through the city of Puli, the approximate geographic centre of Taiwan. We stopped in a scrubby area outside of Puli to search among graves and along field edges for Golden-headed Cisticola, but were not successful.
Following lunch in Wushe, we detoured farther east to Auwanda National Forest Recreation Area, elev. 1200 m (3900 feet). The stream was being patrolled by a pair of Plumbeous Redstarts. We also saw Emerald Dove, Mountain Hawk-Eagle, Crested Serpent-Eagle, a flock of Taiwan Yuhinas (E), 1 Yellow Tit (E) (often hard to find); Fire-breasted Flowerpecker, Black-browed Barbet, more Gray-chinned Minivets, Winter Wren, and Large-billed Crows.
Continuing on, we arrived at Chingching, and the Chingching Resort Hotel, elev. 1750 m (5740 ft.) after dark.
Thursday, November 11 Day 3 Blue Gate Trail; Hehuan Shan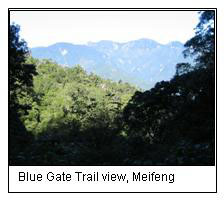 A 5:30 a.m. start for the Blue Gate Trail in the Meifeng area, known locally as Hsuiyen (water) Trail because of the black plastic water pipes (some leaking), alongside of the trail. Mud! We had not gone far when a male Mikado Pheasant (E) shot across the trail. Unfortunately, it was seen only by 3 people, and we did not find another. Other than that disappointment for some, we had a very productive morning: Taiwan Partridge (E) heard only, its far-reaching, rather mournful call unmistakable; White-eared Sibia (E), Taiwan Yuhina (E), Collared Bush Robin (E), Taiwan Barwing (E), Steere's Liocichla (E), Pygmy Wren-Babbler and White-browed Shortwing (both possible endemic-species-to-be), both skulkers and hard to see, Vinous-throated Parrotbill, Golden Parrotbill (Ten-Di only), Plain and Fire-breasted Flowerpeckers, Ashy Wood-Pigeon, Brown Bullfinch, Rufous-faced Warbler, Grey-faced Woodpecker, Gray-chinned Minivet, Eurasian Nuthatch, Asian Stubtail, Yellowish-Bellied Bush-Warbler, Vivid Niltava, Rufous-capped Babbler, Eurasian Jay. Arguably the best sighting of the morning was a flock of 54 White-throated Laughingthrushes.
After 4 hours, we boarded our bus and drove higher, to the Hehuan Shan (Mt. Snow) Forest Recreation Area, elev. 3275 m (10,750 ft.), the highest elevation of the tour, and just inside the western edge of Taroko National Park. We looked up at the summit of Hehuan Shan, at 3461 m (11,360 ft.). During some winters, there is enough snow here for skiing. Birds were scarce; the first we saw, Vinaceous Rosefinch and White-whiskered Laughingthrush (E), were foraging beneath vehicles in the parking lot. We bought a hot lunch from one of the mobile canteens that operate (illegally) in the park. Another parking lot produced another Vinaceous Rosefinch and a Winter Wren. We spent some time watching trees in the coniferous forest behind a park Visitors Centre. This paid off with excellent views of Flamecrest (E), Coal Tit, Green-backed Tit, and Yellow Tit (E).
In the afternoon, we stopped for a 2nd lunch at the Flying Eagle Restaurant. We didn't see any flying eagles, but one particular tree held Taiwan Barwings (E) and Gray-cheeked Fulvettas. Across the road, on the shrubby hillside was a Streak-throated Fulvetta.
Friday, November 12 Day 4 Chingching to Douliou
After an early breakfast, we spent an hour birding scrubby areas around the hotel and nearby farms. We had good looks at male and female Siberian Rubythroat, a Ferruginous Flycatcher, Striated Prinia, more Vinaceous Parrotbills and Steere's Liocichla (E).
As we had not yet found Black-throated Tit, we returned to the Blue Gate Trail. However, thinking that our chances were better in a more open area, birded along the road. For a few minutes, we noted 6 White-throated Needletails wheeling and circling over the valley on the east side of the road. The birds were flying at about our eye-level and in the sunlight, we could see the well-defined white throat patch on one of the birds. We assumed that all 6 were that species.
After a couple of hours and not finding Black-throated Tits, we turned around, drove back through Chingching, and headed for lower elevations. The Chingching area is shown on maps as Chingching Farm, actually several farms on both sides of the road. There are orchards, and it's the only farming area in Taiwan where cows and sheep are found. It's reminiscent of Switzerland.
Arriving at historic Lukang at lunch time, we went to a restaurant specializing in oyster fritters, with "house" sauce. The restaurant was near the Matsu Temple, dedicated to Matsu, Goddess of the Sea. After lunch, we visited the 400-year-old temple, which contains an original image of Meijhou Matsu, thought to possess strong spiritual powers. Following a coffee/tea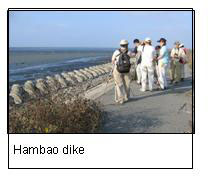 break at a shop down the street, we headed out to Hambao, for shorebirding.
On the western coast at Hambao, the seasonal (fall through spring) northeast wind was blowing strongly. Viewing the mudflats on the sea side of the concrete dike was difficult. We did better looking inward, at the impoundments: Northern Lapwing, Pacific Golden-Plover, Black-bellied Plover; Little Ringed Plover, Mongolian Plover, Common Snipe, Common Greenshank, Wood Sandpiper, Common Sandpiper, Gray-tailed Tattler, Ruddy Turnstone, Long-toed Stint, hundreds of Dunlin, and 1 Ruddy-breasted Crake seen from a blind.
Our accommodation for the night was the very comfortable Metro Hotel in Douliou.
Saturday, November 13 Day 5 Douliou to Tainan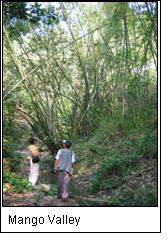 We made an early start for the lowland forest of Mango Valley, Pillow Mountain. Along the road into the valley, we saw another Malayan Night-Heron. We walked along the small, quiet stream that flows through the valley bottom, noting tadpoles and small crabs in the water. The morning was very warm and humid. We saw Dusky Fulvetta, Rufous-capped Babbler, Streak-breasted Scimitar-Babbler and Black-naped Monarch. A Formosan Whistling-Thrush (E) announced its arrival with a piercing whistle.
At the Aougo (Aouwu) Wetland, there were Little Grebe, Great Crested Grebe, many herons, egrets and ducks, hundreds of waders: Common Moorhen, Black-winged Stilt, Pacific Golden and Black-bellied Plover; Little Ringed and Snowy Plover; Mongolian Plover, Common Redshank, Greenshank; Marsh, Green, Terek and Common Sandpipers, Red-necked Stint, hundreds of Dunlin again, many Black-headed Gulls and 4 Saunders' Gulls on the bank of the Dongshuh River, Caspian Tern, Whiskered Tern, and White-winged Tern.
In the uplands, there were a Lesser Coucal, Pale and Brown-headed Thrushes, Yellow-bellied and Plain Prinias, Brown and Long-tailed Shrikes, and Eurasian Magpie.
Supper was at the 109-year-old Tantsi Noodle House in Tainan. The tiny noodle house was very crowded, with diners including us at low tables on the street. Delicious food; unusual ambiance.
Sunday, November 14 Day 6 Tainan to Kenting
After breakfast, we headed out to the Tsengwen River estuary, where 617 Black-faced Spoonbills were wintering. This flock represented approximately half of the world population. It was good to see so many people, including children, taking an interest in this globally endangered species.
In the afternoon, we went to the Kwangtien (Guantian) Wetland to see Pheasant-tailed Jacana. There was a group of students there, too; again, it was good to see the interest shown by these young people. Outside the reserve, on farm fields, there was a Ring-necked Pheasant and several Oriental Skylarks.
Leaving Kwangtien, we had a 2-hour drive south, across the Tropic of Cancer, to Taiwan's tropical far south. After checking into the Police Resort, and supper, we strolled through the Night Market.
Monday, November 15 Day 7 Kenting to Chiayi
Styan's Bulbul (E) is found only in the extreme south and east of Taiwan. This endemic is easy to find. Like the very common Light-vented Bulbul, Styan's can be found in Kenting city, and in the countryside.
In Kenting National Park (Taiwan's first, established in 1984), the Visitors Center has a long glass wall looking out onto Long Luan Tan [Lake], and is well equipped with a row of spotting telescopes for visitor use. The walkway to the building lies among trees, where we found Hwamei and Asian Brown Flycatcher.
With staff member Mr. Yi-jung Tsai, we walked most of the distance around Long Luan Tan [Lake]. Some of the birds

seen were Gray Heron, Purple Heron, 1 Black-faced Spoonbill, many Eurasian Teal, Spot-billed Ducks and Tufted Ducks, Slaty-legged Crake, Ruddy-breasted Crake, Common Moorhen, Eurasian Coot, Pheasant-tailed Jacana, Black-winged Stilt, Pacific Golden-Plover, Common Greenshank, Common Sandpiper, Oriental Skylark, Richard's Pipit, American Pipit, Blue Rock-Thrush, and Plain Prinia. There was a brief, light rain shower during our trek, the first rain on the trip.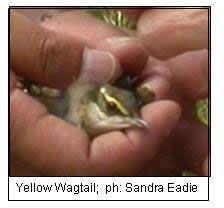 Our group gradually split into two. The first group arrived at the place where our bus was waiting. While scanning distant fields, the second group noticed a Common Kingfisher, struggling in what appeared to be netting, just above the surface of a pond. Ten-Di immediately set off running across the field to see what could be done. It was quickly apparent that 3 birds, Common Kingfisher, Common Snipe and Yellow Wagtail, illegally netted on private land, were struggling for their lives, nearing exhaustion and in danger of drowning. Many other birds had already drowned, entangled in the netting which had fallen into the water under the weight of the trapped birds. Ten-Di waded into the deep water and cut the netting holding the 3 survivors. He returned to the dike with the birds, which we carried back to the bus where the rest of the netting was cut away. The wagtail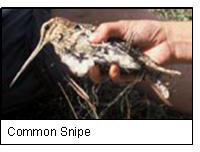 was released immediately; the kingfisher and snipe were returned to the Visitors Center to recuperate before release.
Mr. Tsai led our further explorations of the park and the Kenting Forest Recreation Area, beneath the distinctive 316 m high, sharp peak of Taichien Shan.
After lunch, we left Kenting and drove north to the Inda Eco-farm, near Wanluan in Pingtung County, to look for Black-naped Oriole, another southern Taiwan speciality. We were successful within 2 minutes! After further exploration of the farm, we continued on to Chiayi.
Tuesday, November 16 Day 8 Chiayi to Changhua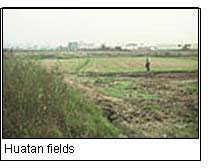 Early morning visit to the Tsengwen Dam area, elev. 250 m on the lower slopes of A Li Shan. As we walked the road toward the dam, we were successful at last with Collared Finchbill (2), Maroon Oriole (4), and a skulking Spot-breasted Scimitar-Babbler, flushed into view by a friendly dog that had followed us up the road.
Late afternoon birding followed, in and around farm fields of Huatan, south of Changhua city. In the open rice stubble fields with shrubby edges and wet spots, we found Zitting Cisticola, Greater Painted-Snipe, Nutmeg Mannikin and Ruddy-breasted Crake.
Wednesday, November 17 Day 9 Changhua to Taipei
Leaving Changhua, we proceeded north. Arriving in Taipei, we had a shopping opportunity at the extensive Chinese Handicraft Mart.
After lunch, we drove beyond the northern edge of the city into Yangmin Shan National Park. The overcast gave way to heavy rain and wind, thwarting further birding. We retreated to the shelter of the park headquarters, and the office of Mr. Kuang-Ying Huang, Conservation and Research Division, where we saw mounted specimens of some of the birds and animals of the park. After supper, it was time to return to Chiang Kai-Shek International Airport for the return flight to Vancouver.
- - - - - - - - - - - - - - - - - - - - - - - - -
We saw 13 of 15 endemic species and heard another (Taiwan Partridge). The skulking Taiwan Bush-Warbler (missed) is virtually impossible to find except in the breeding season.
The total bird species for the trip was 168; 164 seen, 2 heard only, and 2 seen by a leader only.
For more information, contact:
Simon Liao, 5560 Linscott Court, Richmond, BC, Canada, V7C 2W9. simonliao0624@yahoo.com.tw.
International Taiwan Birding Association, www.birdingintaiwan.com.