Bronzed Drongo
Dicrurus aeneus braunianus
Endemic subspecies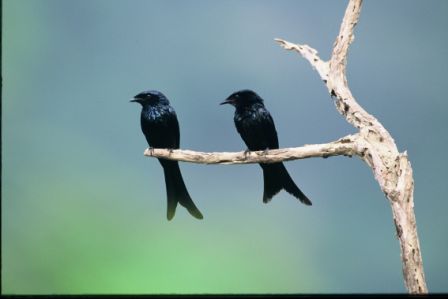 Bronzed Drongo is a rather plain and inconspicuous bird of low- and mid-elevation broadleaf forests up to 2000m elevation. In poor light, it appears black, as the Black Drongo of open lowland habitats. However, Bronzed Drongo is slightly smaller, shorter-tailed and smaller-billed than its lowland relative. Its tail is only slightly upturned at the tip. Seen in good light, the Bronzed Drongo's black body has a glossy metallic sheen which may appear deep blue or green.
It may be seen hawking for insects through the upper and middle canopy or perched in the open on branches or electric wires, alone or in a small flock. It sometimes mixes with Gray-chinned Minivets. Its variable call seems gentle and pleasing.
Bronzed Drongo may be seen in suitable habitat and elevation along the road leading up to Tswengwen Dam, southeast of Chiayi; in the vicinity of Wufeng, Taichung County; Huisun Forest Station and Auwanda National Forest Recreation Area, Nantou County and similar areas of Taiwan.