Chinese Crested Tern
Sterna bernsteini
Rare Bird Alert!
Chinese Crested Tern (Sterna bernsteini), "disappeared" for 20 years, and was thought perhaps extinct. This photograph of a Chinese Crested Tern (right; black-tipped yellow-orange bill) with Caspian Terns (Sterna caspia), was taken by Ong Long-shin, on April 17, 1998, at the mouth of the Pachang Hsi (Pachang River), Chiayi County, Taiwan.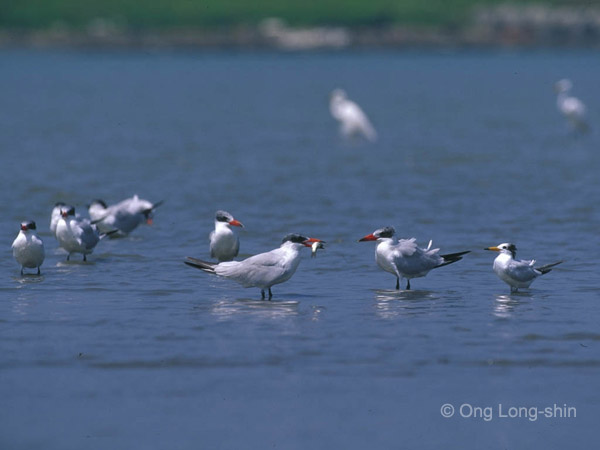 Chinese Crested Tern is a medium sized tern (35–36 cm), a little smaller than Black-headed Gull Larus ridibundus, much smaller than Great Crested Tern Sterna bergii, and Caspian Tern Sterna caspia, but larger than Whiskered Tern Chlidonias hybridus.
The head of the breeding adult is white, with a crested black cap. The long, slender bill is yellow-orange (not pure

'yellow', as often described and depicted), except for the distal third, which is black. Upperparts: pale pearl grey, rump white. Underparts: white. Upperwing is mostly pale pearl grey, with outer webs of outer 3–5 primaries blackish; secondaries narrowly tipped white. Underwing is mostly white. The tail is white, and deeply forked. Legs and feet are black. The overall impression is of a very pale bird.
The non-breeding adult is similar, except that the extreme tip of the bill is whitish. The forehead is extensively white; the crown is mottled black and white, merging into the black nape.
The immature has brownish mottling on upperparts; the inner part of the wing lining is paler with two dark bars on the inner wing. Back and tail are whitish with brown mottling.
BirdLife International considers this species Critically Endangered. First described in 1863, numbers have always been very small, and the species was thought extinct for many years. On April 17, 1998, Ong Long-Shin photographed a Chinese Crested Tern with Caspian Terns at the mouth of the Pachang River, Chiayi County, Taiwan, but at the time, did not realize what the smaller bird was.
In 1996, the Wild Bird Federation of Taiwan co-ordinated a study of the bird ecology of the Matsu (Matzu, Mazu) Archipelago in

Taiwan Strait, which is administered as Liengchiang County by Taiwan (Republic of China) but situated less than 6 km from northern Fujian Province on the Chinese mainland (People's Republic of China). The Matsu group consists of 36 islands; 5 major islands and 31 smaller islets; several of the uninhabited islets support gull and tern breeding colonies. Eight of the islands and islets were officially designated as "National Matsu Nature Reserve for Terns" in January 2000. Meanwhile, in June 1999, the Wild Bird Federation of Taiwan, supported by the Lienchiang County government, began a project to film the tern breeding colonies. Liang Chieh-Teh, producer of the film, and Chang Shou-Hua, Chairman of the Wild Bird Society of Matsu, were in charge. Later, while editing film of a Great Crested Tern colony, they noticed that there were a few smaller birds present, also; these were subsequently identified as Chinese Crested Terns.
On August 13, 2005, Simon Liao, Chairman, International Taiwan Birding Association (Canada); Dr. Robert Butler, Canadian Wildlife Service; Legislator Yang Chung-Tse; Lin Maw-Nan, Vice Chair, Taiwan International Birding Association; Chang Shou-Hua, Chair, Wild Bird Society of Matsu, co-discoverer of the birds in 2000, and Jason Yuan, Senior Information Officer, found two Chinese Crested Terns, in a flock of 40 Great Crested Terns on the tiny islet of Ching Yu in the Matsu Scenic Area. Dr. Butler's account of that event can be found on our Birding Stories page.
We thank Liang Chieh-Teh for permission to include his photographs of Chinese Crested Tern.
Chinese Crested Tern Art by Wang Chen-Wen
References:
Chieh-Teh Liang, Shou-Hua Chang, Woei-horng Fang, from OBC Bulletin 32, December 2000, Little known Oriental bird; discovery of a breeding colony of Chinese Crested Tern. Reprinted with permission.
Easton, A. Chinese Crested Tern, Sterna bernsteini; a brief history, http://home.clara.net/ammodytes/chinatern.htm Reprinted with permission.
Harrison, P. Seabirds, an Identification Guide, (1983)
MacKinnon, J. and K. Phillipps. Field Guide to the Birds of China, (2000)
Zhang Kejia, Yu Xi, Gan Xiaojing and D. Melville. BirdingASIA, No. 2, Dec. 2004; Chinese Crested Tern at Chongming Dao, Shanghai, China.
Little known Oriental bird: Discovery of a breeding colony of Chinese Crested Tern
by Chieh-Teh Liang, Shou-Hua Chang, and Woei-horng Fang, from OBC Bulletin 32, December 2000.
Prior to the recent observations detailed below, the Chinese Crested Tern was only known from a few old specimens and sight records. There are a few historical records from China including 21 collected off Shandong in 1937. More recent records from China are of three birds observed on sand flats at Beidaihe on 10 June 1978 and a further three, probably of this species were observed at the mouth of the Yellow River in Sept 1991.

Outside of the breeding season there are three specimen records from Fujian dating from 1913 and 1916 and two probable observations from Guangdong, one of which was after a typhoon.

Away from China there are specimen records as follows: two from the Philippines (1905 and undated), one from Halmahera, Indonesia (1861) and three each from Malaysia (Sarawak 1890, prior to 1891 and 1913) and Thailand (three winter-plumage males collected in 1923). The only recent sight record concerned 10-20 reported from Ko Libong Wildlife Sanctuary in Thailand in July 1980.

In June 2000 Liang Chieh-teh was fortunate to discover a Chinese Crested Tern Sterna bernsteini colony in the Matzu Archipelago. Here the authors give some background to this exciting discovery.
The Chinese Crested Tern is a critically endangered species. It was first described in 1863 and since its discovery only five group of birds have been recorded. The two most recent records concerned ten in Thailand in July 1980 and three in northern China in September 1991. Several authors consider this bird may already be extinct (1,2).

The Matzu Archipelago (25°56'-26°18'N, 119°51'-120°01'E) is a short distance east of the Fukien province of mainland China and due to its strategic importance was under military regulation and very difficult to visit for the general public. The fauna and flora of the area were largely unknown. In recent years the central government of China eased the military regulation of the area and more birdwatchers and naturalists began to visit the area.
A three year project to study bird ecology in the area, coordinated by Wild Bird Federation of Taiwan (formerly Chinese Wild Bird Federation) and financed by Agriculture Improvement Bureau of Lienchiang County began in April 1996 and improved our understanding of the bird fauna. The survey found that several uninhabited islets are very important breeding sites for terns with large colonies of Greater Crested Tern Sterna bergii, Bridled Tern, S. anaethetus and Roseate Tern S. dougallii. The results of the survey prompted the Lienchiang County Government to define the islets as a nature reserve and in January 2000, eight islets used by breeding terns were officially designated as 'National Matzu Nature Reserve for Terns' by Central Government Council of Agriculture.

In order to increase public awareness of conservation in the reserve, Lienchiang County Government supported a project of Wild Bird Federation of Taiwan to film the breeding terns. The project started in June 1999 and was carried out by Liang Chieh-teh. In mid-June 2000 while editing the film of a Greater Crested Tern colony videoed on 1 June, several pairs of strange terns were noted. After checking a reference book 3 these birds were identified as Chinese Crested Tern based on their smaller size and paler upperparts than Greater Crested Tern and black tips to their bills. The film was sent to Dr. Lucia Liu Severinghaus who helped to confirm the identification.

On 29 June Liang and Mr. Chang Shou-Hua, the Secretary General of Wild Bird Society of Matzu visited the colony for more fieldwork. They surveyed the area and found four breeding pairs of Chinese Crested Tern, with eight adults and four chicks. This is the highest count of the species ever.

In late July Liang took Dr. Severinghaus to the Terns' colony to confirm the identification in the field and a press conference was later held to announce the important find. On 26th August the authors again visited the terns' colony but only one Chinese Crested Tern in non-breeding plumage remained at the site along with 40+ Greater Crested Tern. This was the last sighting of this bird this year.

Currently the breeding site is in a National Nature Reserve under the protection of law and the Magistrate Liu of Liengchiang County Government is very supportive of the conservation of the site. The major threat now is fisherman from mainland China invading these islets to collect seashells or bird eggs. After disturbance by fisherman in 1999 a previous Bridled Tern breeding site had no birds in the following breeding season. Since the colony is very sensitive to disturbance, control of visiting tourists will also be a problem during next breeding season.

After the announcement of the rediscovery we received reports of two earlier sightings. One was from Chang Shou-Hua who took many photographs of the Matzu tern colony in previous years. Using a magnifying glass to examine early photographs he found some Chinese Crested Terns in a Greater Crested Tern colony. This finding suggests the Chinese Crested Tern may have been breeding at this site for some time. The other report was from Weng Jung-Hsiun, who took a picture of a single Chinese Crested Tern in a flock of Caspian Terns S.caspia at Putai, Chiayi County (23€21'N, 120€10'E) on 17 April 1998. Initially, this bird was thought to be an immature Greater Crested Tern but was later reidentified as the first and the only Chinese Crested Tern record from Taiwan.

We consulted several handbooks and fieldguides about this bird. According to our observations, the plates of this bird are not entirely accurate (1-7); there is a white point to the black tip of the bill. Only two books demonstrated this feature (1,4). The bill colour is more orange than Greater Crested Tern but all the plates illustrated it as yellow (as in Greater Crested Tern) except duPont (5).
Note: Under a different spelling system, Matzu may be spelled as Matsu and Liangchiang as Lian-jiang.
References
1. Robson, C. (2000) A field guide to the birds of south-east Asia. New Holland: UK.
2. Viney, C, Phillipps, K., and Lam, C.Y. (1996) Birds of Hong Kong and South China. Hong Kong.
3. del Hoyo, J., Elliot, A., and Sargata, J. eds (1996) Handbook of the Birds of the World, Vol 3, Hoatzin to Auks. Lynx Edicions, Barcelona: Spain.
4. Harrison, P. (1983) Seabirds, an identification guide. Houghton Mifflin, Boston, USA.
5. duPont, J.E. (1971) Philippine Birds. Delaware Museum of Natural History, Greenville: USA.
6. Lekagul, B., and Round, P.D. (1991) A Guide to the Birds of Thailand. Bangkok: Thailand.
7. Sonobe, K. and Usui S. eds (1993) A field guide to the water birds of Asia. Wild Bird Society of Japan. Tokyo: Japan.
Copyright © Oriental Bird Club 1984-2005. All rights reserved.
CHINESE CRESTED TERN
Sterna bernsteini
a brief history
by Andrew Easton
The Chinese Crested Tern has always been rare and little known; further confusion was caused by it being independently described and named twice, first as Sterna bernsteni by Schlegel in 1863, and then S. zimmermanni by Reichenow in 1903
Its breeding grounds had never been discovered, but in 1937, 21 were killed for specimens on islands near Qingdao (Tsingtao) on the Shandong Peninsula in north east China. Some of these were reported to be in breeding condition, so it has always been assumed that this was a breeding area.
There were some old winter records from the south east coast of China near Fuzhou (Foochow) in Fujian province, and neighbouring Guangdong province; south Thailand; north west Borneo; Halmahera and the Phillipines.
After the 1937 massacre (I can think of no more appropriate word for it) the species was not recorded again until June 1980 when 10 were seen near Libong in south Thailand, and three probable ones were seen in the Huang Ho delta in September 1991, just to the north of the presumed breeding range.
The immature plumages and eggs are undescribed, hardly surprising, as killing all the birds that turn up to breed and putting them into draws in museums does tend to inhibit reproductive success.. Similarly its diet and behaviour are completely unknown.
Then in the summer of 2000 quite out of the blue came news that four pairs, with four young between them, had been discovered breeding on an island just off the coast of Fuzhou in China, but administered by Taiwan. This is a long way to the south of the earlier records, but where it has previously been recorded in winter, whether this indicates it to be resident in that area, or just that it returns early to the nesting sites remains to be seen. Provided they are given a chance. Fortunately the island is already a nature reserve so there is a degree of protection here, but egg poaching for food is quoted as a problem in the area.
Article from the Hong Kong iMail newspaper 8th August 2000
Click here to view BBC News website article - this link will open in a new browser window
The photograph released to the press taken by the discoverer, Liang Chieh-teh, shows two adults with one small chick, nesting next to pairs of Crested Terns S. bergii. The most striking feature is the very extensive white fore crowns of the Chinese Crested Terns, this came as quite a surprise as all illustrations of summer plumaged adults were depicted with full black crowns. The photographs were taken in mid summer in June, so would be expected to show typical summer plumage. So not only are its behaviour, nesting details, and immature plumages unknown, but the seasonal variation in the plumages of the adult birds is now thrown into some confusion.
It seems quite probable that some Chinese Crested Terns viewed distantly, when the black tip to the bill would not necessarily be discernible, but which had a white fore crown, may have been passed over as Crested Tern. So much for the collecting of specimens helping the identification process.
Observation of the living birds should reveal the true plumage patterns of the species far more reliably than individual corpses frozen at a moment in time ever can.

REFERENCES:
del Hoyo, J., Elliot, A., & Sargatal, J. eds (1996) Handbook of the Birds of the World. Vol. 3. Hoatzins to Auks. Lynx Edicions, Barcelona.
King, Warren B. compiler (1981) Endangered Birds of the World, The ICBP Red Data Book. Smithsonian Institution Press, Washington, D.C.