Endemic Species
White-whiskered Laughingthrush
Yellow Tit

Endemic Sub-Species

Alpine Accentor

Black-browed Barbet

Streak-breasted Scimitar-Babbler
White-browed Shortwing

More Birds in Taiwan

Black-naped Oriole
Whistling Green-Pigeon
Treron formosae formosae
Endemic subspecies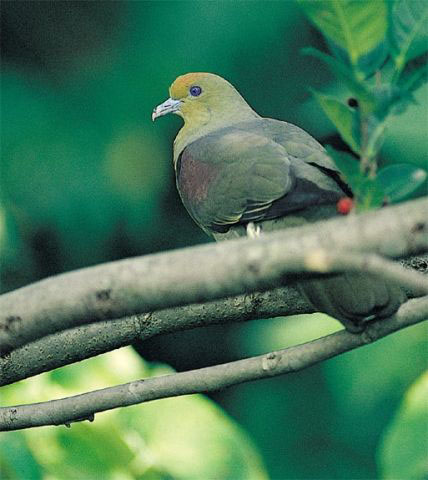 As indicated by its specific name formosae, the Whistling Green-Pigeon was first described from Taiwan, by Swinhoe in 1863. The male is large (35 cm) with a dark green back, inner secondaries and tail, a lighter green throat and breast, and pale yellow vent area with dark green streaks. The outer secondaries and primaries are blackish and the hind-neck is light green, becoming gray on the upper mantle. The inner wing coverts and scapulars are purplish brown, forming a large shoulder patch. The crown is deep golden orange, the legs and feet are red, and the bill is light blue at the base, and grayish white on the outer half. The iris is reddish brown. The female is similar but lacks the brown shoulder patch and golden crown.
The Whistling Green-Pigeon favors tropical lowland evergreen forests, where it feeds mainly on fruits in the canopy. Although little information is available on the Taiwan population, on Ryuku Island it breeds from April onwards, and nests from early May. Typically the female lays two eggs in a frail platform of sticks placed up to 3 m. above the ground. The call of the Whistling Green-Pigeon has been described as "poh poh peh", with the last note higher pitched.
The Whistling Green-Pigeon is considered near-threatened. It occurs only in the Ryuku Islands, the northern Philippines and Taiwan. The Taiwan subspecies formosae has a brighter golden-bronze crown and is smaller and brighter overall than the Ryuku Is. subspecies. It is resident year-round, and is uncommon and local in suitable habitat.
References: Handbook of Birds of the World Vol. 4; A Field Guide to the Birds of China (Mackinnon and Phillipps); 100 Common Birds of Taiwan (Wild Bird Society of Taipei); N. J. Collar, "Endemic subspecies of Taiwan birds—first impressions", in Birding ASIA, Number 2, December 2004