Collared Finchbill
Spizixos semitorques cinereicapillus
Endemic subspecies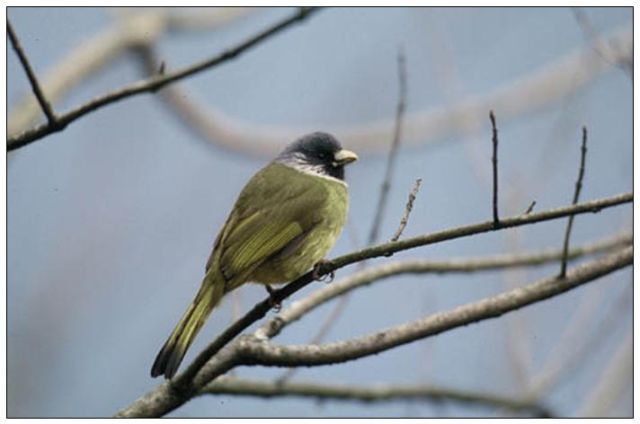 The Collared Finchbill is a medium-sized (about 20 cm), stocky bulbul, with greenish body, dark slate head with white streaks on the cheeks, stout ivory bill, and diagnostic whitish half-collar separating the breast and throat.
Its habitat preferences include scrub and second growth, at elevations from 200–2500 m. It is usually discovered low among large shrubs and small trees, but occasionally may be seen perched in the open, on a fencepost or electric pole.
Collared Finchbill may be found in appropriate habitat in the vicinity of Wufeng, Taichung County; Huisun Forest Station and Auwanda National Forest Recreation Area, Nantou County and other areas of Taiwan, within the relatively narrow elevation belt. It can sometimes be seen in Taipei also, north of the Keelung River on Yuan Shan hill behind the Grand Hotel.