Endemic Species
White-whiskered Laughingthrush
Yellow Tit

Endemic Sub-Species

Alpine Accentor

Black-browed Barbet

Streak-breasted Scimitar-Babbler
White-browed Shortwing

More Birds in Taiwan

Black-naped Oriole
White-bellied Green-Pigeon
Treron sieboldii sororius
Endemic subspecies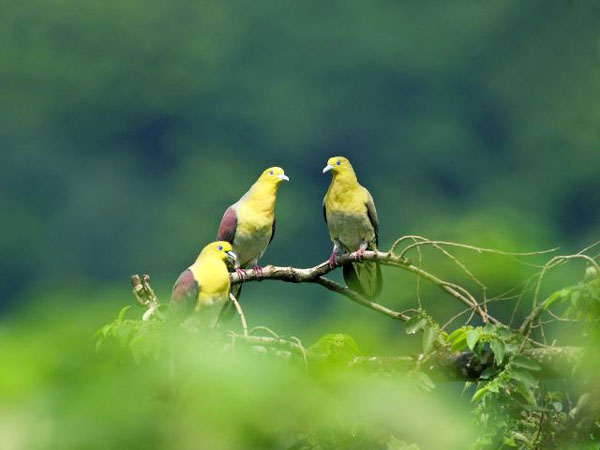 Also known as Japanese Green-Pigeon, the White-bellied Green-Pigeon is a fairly large (33 cm) pigeon with a dark green back, inner secondaries and tail. The outer secondaries and primaries are blackish. The forehead is golden yellow, while the nape and neck are light green, becoming bluish gray on the lower neck and upper mantle in the male. Also in the male only, the inner wing coverts and scapulars are purplish brown, forming a large shoulder patch. The throat and upper breast are bright yellowish green, with a golden tinge centrally, duller in the female. The belly is nearly white, merging to a pale yellow vent area with dark green streaks. The legs and feet are purplish red and the bill is light blue at the base and grayer at the tip.
The White-bellied Green-Pigeon favors dense forests and second growth, where it eats mainly fruit, but has also been known to take acorns. It feeds in trees and shrubs and occasionally on the ground, usually in small groups. Its call is described as a mellow "ah oh ah oh", or "wu-wua-wu, wu-wua-wu". The nest of the White-bellied Green-Pigeon, like that of its close relatives, is a flimsy platform of twigs placed 2-3 m. above the ground, in which the female lays two white eggs.
The White-bellied Green-Pigeon is currently considered near-threatened, as it has become relatively rare in China and has declined in Japan. The Taiwan subspecies sororius shows a yellower crown, nape and sides of the neck than the sieboldii subspecies found in Japan, but was not recognized as separate in Handbook of Birds of the World, Vol. 4. In Taiwan the White-bellied Green-Pigeon is still a common resident year-round in forested areas, especially in central and eastern parts of the island, and may be found up to 2300 m.
References: Handbook of Birds of the World Vol. 4; A Field Guide to the Birds of China (Mackinnon and Phillipps); 100 Common Birds of Taiwan (Wild Bird Society of Taipei); N. J. Collar, "Endemic subspecies of Taiwan birds—first impressions", in Birding ASIA, Number 2, December 2004