ITINERARY
Matsu Archipelago and Taiwan Island
July 18–20, 2007, with July 21-25 Extension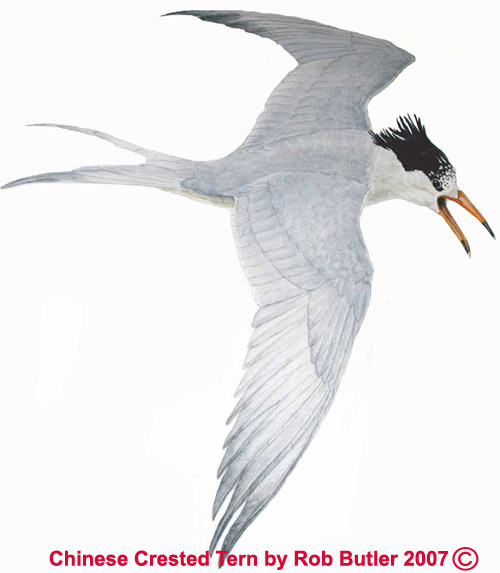 The summer months are typhoon season; also coastal fog can disrupt air travel. Weather may necessitate an adjustment of plans. Days 2 and 3 are Weather Back-up in case we cannot go to sea on Day 1.

Wednesday, July 18, Day 1: Depart Shungshan Airport (domestic terminal), Taipei at 11:00 for 50-minute flight to Nangan Island, Matsu Archipelago. Afternoon boat to the Matsu Tern Reserve (about 3 hours there and back) for Chinese Crested Tern (Matsu Tern), Sterna bernsteini. Watch for other terns; Great Crested (common), Black-naped (common), Roseate (common), Bridled (common), Whiskered, Gull-billed, Caspian, Little, and Black-tailed Gull. Night at Sheng Nong Resort, Nangan.
Thursday, July 19, Day 2: Weather back-up for Day 1. Or, birding on Nangan Island.
Friday, July 20, Day 3: Weather back-up for Day 2. Return to Taipei.
Those opting for the Extension will fly to Changhua instead of Taipei. Night in Changhua, Formosa Hotel, or Atayal Resort in Huisun Forest Station, depending on weather.
Extension
Saturday, July 21, Day 1: Huisun Forest Station, elev. 770 m (2530 ft.). Morning birding in mid-elevation forest, for Formosan Magpie, Black-browed Barbet, Gray-capped Woodpecker, Gray-chinned Minivet, Gray Treepie, Black Bulbul, Rufous-capped Babbler, and if all goes well, Swinhoe's Pheasant.
Drive to Aowanda National Forest Recreation Area, elev. 1200 m (3900 ft.) for afternoon birding, and try for Mountain Scops-Owl after dark. Night at Aowanda.
Sunday, July 22, Day 2: Morning birding at Aowanda, for Rufous-faced Warbler, perhaps Chinese Bamboo Partridge. Look in Naoliao Creek for Plumbeous Redstart, and with luck, Little Forktail. Watch for Taiwan Yuhina, Yellow (Taiwan) Tit, White-eared Sibia, Formosan Whistling-thrush, (Taiwan) Hwamei, Fire-breasted and Plain Flowerpeckers.
Drive to Chingjing, elev. 1750 m (5740 ft.) In the Meifeng area, explore a little of the famous Blue Gate Trail #1. Night at Chingjing Resort.
Monday, July 23, Day 3: Walk Blue Gate Trail #1, properly called the Rueiyan River Road. Blue Gate #1 is about 3 km, end-to-end. Local people call these the Shueiguan (Water) Trails, because of the water pipes that lie alongside. Possibilities include White-tailed Robin, Swinhoe's Pheasant and perhaps with much luck, the very elusive Taiwan Partridge. The shy and scarce white-headed (Taiwan) Island Thrush, an endemic subspecies, will be singing at this time of year, and we may find a pair or two along the trail. We will also be alert for White-eared Sibia, Taiwan Yuhina, Collared Bush Robin, Taiwan Barwing, Steere's Liocichla, Pygmy Wren-Babbler, White-browed Shortwing (the wren-babbler and shortwing are both hard-to-see skulkers), Vineous-throated Parrotbill, Eurasian Nuthatch, White-throated Laughingthrush, and others. Night at Chingjing Resort.
Tuesday, July 24, Day 4: Early morning birding on Blue Gate Trail #1. Then, we will drive higher yet, to the Hehuan Shan Forest Recreation Area, elev. 3275 m (10,750 ft.), the highest elevation of the tour, just inside the western edge of Taroko National Park. ("Shan" means "mountain "or "hill" in Mandarin; in this case, "mountain.") We will look for White-whiskered Laughingthrush, Flamecrest, Yellow Tit, Alpine Accentor, Vinaceous Rosefinch and Coal Tit. We will continue eastward through the upper part of the Taroko Gorge, in Taroko National Park, to Tienhsiang looking for Styan's Bulbul. Night at Tienhsiang, elev. 485 m (1592 ft.)
Wednesday, July 25, Day 5: Continue through Taroko National park to Taiwan's east coast, then turn northward. Continue to Taipei via Yilan. On arrival in Taipei, the tour ends.
Group size: 1 to 10 participants
Leader: Simon Liao
Price: From Taipei, 8 days (Matsu plus Extension): US $2400 (sharing); US $2900 (single occupancy);
(Note: Days 1–3 are FREE for the winners of the Taipei-Matsu draw which took place on August 18, 2006, at the UK Birdwatching Fair.)
Price for Matsu Archipelago and Tern Reserve only: US $900.
Extension only: US $1500 (sharing); US $2000 (single occupancy).
Deposit: US $300
EARLY BOOKING DISCOUNT: Register for full 8 day tour, at least 60 days before start date; get 5% off trip price.
For more information, contact:
Simon Liao birdsimon0624@yahoo.com.tw, in Taiwan
Jo Ann MacKenzie j.a.mackenzie@telus.net, in Canada
The Taiwan Specialists

International Taiwan Birding Association