Scheduled Tours
2007 Tour for Chinese Crested Tern (Matsu Tern)
Trip Report: BIRDING IN TAIWAN, May. 1-14, 2006
ANNOTATED SPECIES LIST, Taiwan, MAY. 1-14, 2006
BIRDING IN TAIWAN, Jan 29–Feb. 3, 2006
Trip Report: BIRDING IN TAIWAN, FEB.24-26, 2006
Trip Report: BIRDING IN TAIWAN, NOV.28-Dec.2, 2005
ANNOTATED SPECIES LIST, Taiwan, NOV.28-Dec.2, 2005
Trip Report: BIRDING IN TAIWAN, NOV. 7-16, 2005
ANNOTATED SPECIES LIST, Taiwan, NOV. 7-16, 2005
Trip Report: BIRDING IN TAIWAN, MAY. 2-11, 2005
ANNOTATED SPECIES LIST, Taiwan, MAY. 2-11, 2005
Trip Report: BIRDING IN TAIWAN, MAY. 21-24, 2005
ANNOTATED SPECIES LIST, Taiwan, MAY. 21-24, 2005
Trip Report: BIRDING IN TAIWAN, NOV. 8–17, 2004
ANNOTATED SPECIES LIST, Taiwan, NOV. 8–17, 2004
Taiwan Trip Report, March 21 – 28, 2003
ANNOTATED SPECIES LIST, Taiwan, March 21 – 28, 2003
Taiwan Trip Report, November 11-19, 2003
ANNOTATED SPECIES LIST, Taiwan, November 11–19, 2003
BirdingASIA -Birdwatching in Taiwan
TRIP REPORT: BIRDING IN TAIWAN,

November 7–16, 2005

Leaders: Simon Liao, Ten-Di Wu, and Jo Ann MacKenzie

Text and trail photos: Jo Ann MacKenzie

Bird photos: Bill Keay
(E) = Endemic
Taiwan is a mountainous island in the South China Sea, about 160 km (100 miles) off the Chinese mainland. The forested beauty of the island led Portuguese sailors in 1590 to name it Ilha Formosa, meaning "Beautiful Island." The tropic of Cancer passes through the southern part of the island.
Monday–Tuesday, November 7–8 Day 1 Taipei to Huisun
Our EVA Airways flight departed Vancouver at 1 a.m. Pacific Standard Time on Nov. 7, arriving at Chiang Kai-Shek International Airport, Taoyuan, 50 km west of Taipei, at 5:45 a.m. on Nov. 8. Participants from the U.S.A. had already arrived. We transferred to our comfortable, air-conditioned bus and headed south.
Near Taichung, we picked up our co-leader, Ten-Di Wu and continued on into the Wufeng area, near Tonglin village. We were accompanied for a while by Legislator Yang Chung-Tse and several members of the press, who were interested in our group. The elevation was 200–300m, just high enough for our first endemic species, Formosan Magpie (E). We also saw Black-browed Barbet, Black Bulbul, Streak-breasted Scimitar-Babbler, White-bellied Yuhina, Black-naped Monarch, Dusky Warbler, Rufous-capped Babbler, and overhead, Large-billed Crow and Crested Serpent-Eagle. Gray-cheeked Fulvettas seemed to be everywhere. Some of the group tracked down an elusive Malayan Night-Heron.
We continued on to Huisun Forest Station, elev. 770m (2530 ft.), where we had a late-afternoon walk along the gravel service road reached after climbing 180 wooden steps up the hill opposite the office. Two of the group were fortunate to glimpse a Swinhoe's Pheasant along the road. After supper, Ten-Di called in a Mountain Scops-Owl, which managed to stay concealed in a tree. Night at Atayal Resort, Huisun Forest Station.
Wednesday, Nov. 9 Day 2 Huisun to Chingjing
The earliest risers heard Northern Boobook and Collared Owlet calling in the distance. We repeated the climb up the 180 steps to the gravel road for pre-breakfast birding. One of the first birds was White-backed Woodpecker. The area was very quiet, except for the loud, repeated "oh, WOW!" calls of an unseen male Swinhoe's Pheasant.
Departing Huisun after breakfast, we drove east to Puli. We stopped at one of the numerous 7/11 convenience stores for lunch items, and continued on to Aowanda (Auwanda, Aowanta, Houwanta) National Forest Recreation Area, elev. 1200m (3900 ft.). We explored the park area about ½ km in from the entrance. Plumbeous Redstarts patrolled narrow, rocky Naoliao creek, both above and below the waterfalls. While we were birding along the road, Judia Tung, of the Nantou Forest District Office, kindly brought us coffee. Thus fortified, we continued our roadside-watch. During our 3-4 hours there, we saw White-eared Sibia (E), Taiwan Yuhina (E), Formosan Whistling-Thrush (E), Plain Flowerpecker, Eurasian Nutcracker, Eurasian Jay, Gray-chinned Minivet and Pacific Swallow.
Leaving Aowanda, we drove a rather nerve-wracking, typhoon damaged road (under repair) to Beidongyang Shan to search again just before dark for Swinhoe's Pheasant, this time seen by 4 people. Along the trail were Ashy Wood Pigeon and Scaly Thrush.
Continuing on, we reached Chingjing (Chingching, Chinging, Cingjing), elev. 1750m (5740 ft.) well after dark. Our bus was unable to negotiate the steeply curving driveway down to Chingjing Resort, so we unloaded our smaller items and walked down to the hotel. The hotel vans brought our larger luggage. Night at Chingjing Resort.
Thursday, Nov. 10 Day 3 Meifeng
The staff set out a 5 a.m. "birders' breakfast", after which we trekked up the hill to the bus. We were joined by Lydia Huang from National Taiwan University's Meifeng field station. During the trek, in the dawn light, we noticed Eurasian Kestrel, Blue Rock Thrush, Gray Wagtail and Daurian Redstart. After a short drive, we arrived at the upper Ruiyan River Trail, also known as Blue Gate Trail #2, where we hoped to find Mikado Pheasant. The road high above, which had suffered typhoon damage during the summer, was being repaired and large rocks were hurtling down the slope. We had to judge our timing carefully to avoid being hit as we scrambled over the rockfall. We found no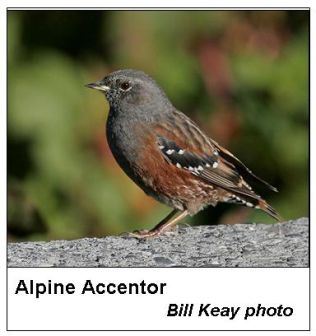 pheasants, probably due to the noise and disturbance of the road reconstruction.
Leaving the upper Ruiyan River Trail (Blue Gate #2), we continued across a narrow local road and onto the upper end of the lower trail (Blue Gate #1). Plastic water pipes lie alongside both trails, carrying water down to Chingjiing from the higher reaches of the Ruiyan River. A local name for these trails is Shuiyen (Water) trails, because several of the pipes leak, resulting in water and mud puddles, some of them ankle-deep. We avoided the water and mud as much as we could. In spite of the occasionally treacherous footing, we found Eurasian Jay, Brown Bullfinch, Steere's Liocichla (E), Taiwan Yuhina (E), Collared Bush-Robin (E), Yellow Tit (E), Gray-chinned Minivet, Gray Treepie, Black-throated Tit, Yellowish-bellied Bush-Warbler, White-browed Shortwing, Eurasian Nuthatch, Ashy Wood Pigeon, and Black Bulbul
After lunch at the hotel, we drove higher to the Hehuan Shan area, just inside the western boundary of Taroko National Park. Stopping first at Wuling Pass, elev. 3275m (10,750 ft.), the highest road pass in Taiwan, we saw Alpine Accentor and Vinaceous Rosefinch. The accentor seemed equally comfortable foraging among the rocks and beneath parked cars. A little farther on, we discovered a White-browed Bush-Robin moving along a small stream.
Leaving Hehuan Shan, we returned to the upper Ruiyan River Trail to try again for pheasants, but were not successful. Night at Chingjing.
Friday, Nov. 11 Day 4 Chingjing to Changhua
Birders' breakfast at 5 a.m., then to Blue Gate Trail #1 from 6 to 8 a.m. The group split into several subgroups for a better chance for Swinhoe's Pheasant (E), and most people were eventually successful. Also seen were Taiwan Barwing (E), Steere's Liocichla (E), Yellow Tit (E), Japanese Sparrowhawk, White-bellied Pigeon, Plain Flowerpecker, Black-browed Barbet and Rufous-faced Warbler.
Leaving high mountain habitat, we descended to Changhua, where we held a press conference with many representatives of the media. The purpose of the interview with the press was to obtain our views on "H5N1 Bird Flu" which was causing considerable concern in southeast Asia, and why we were not afraid of it. The press conference was followed by a special outdoor lunch of traditional Changhua foods hosted by the students and staff of the adjacent junior high school.
In the afternoon, we went to the historic city of Lugang (Lukang), where we visited the 400-year-old Matsu Temple and had a coffee break while waiting for the appropriate tide for shorebirding. After a while, we continued on to Hambao wetlands, where among species seen were Little Grebe, Cattle Egret, Cinnamon Bittern, Eurasian Kestrel, Common Sandpiper, Northern Lapwing, Black-winged Stilt, Little Ringed Plover, Marsh Sandpiper, Wood Sandpiper, Long-toed Stint, Pacific and Barn Swallows, Long-tailed Shrike, Yellow Wagtail; Richard's, Red-throated, and American pipits; Black-shouldered Kite, and Common Myna (introduced).
In the evening, we attended a supper hosted by Changhua Deputy Magistrate Jeremy Liu. Night at the Formosa Hotel, Changhua.
Saturday, Nov. 12 Day 5 Changhua to Tainan
The morning began with a trek through some of the fallow fields in the farming area of Huatan Township. In the open rice stubble fields, among the vegetation and wet spots, we found Eurasian Kestrel, Plain Prinia, Brown Shrike, Zitting Cisticola, Yellow Bunting, Nutmeg Mannikin, Yellow Wagtail, Oriental Greenfinch, Chinese Pond-Heron, Common Snipe and several Greater Painted-Snipe. We focused on a small bare patch in a boggy spot and watched as 15 painted-snipes dashed through.
We headed west toward the coast, with a stop at the Puzih (Putzih) River, where there were Pacific Golden Plover, Snowy Plover, Redshank, Greenshank, Terek and Common Sandpipers, Black-necked Stilt and many Black-crowned Night-Herons.
The wetlands of Aougu (Aouku, Aogu, Auku, etc.) held many birds: Great Cormorant, Northern Shoveler, Northern Pintail, Eurasian Teal, Spot-billed Duck, Black-bellied and Pacific Golden Plovers, Dunlin, Black-headed Gull, Eastern Marsh Harrier, and Common Kingfisher. In the uplands, a few of the group spotted Lesser Coucal. A surprise was finding a Crested Serpent-Eagle perched in a dead snag. Seeing this large raptor at sea level was unusual, as the species' usual habitat is mountain forests.