Scheduled Tours
Trip Report: BIRDING IN TAIWAN, NOV.28-Dec.2, 2005
ANNOTATED SPECIES LIST, Taiwan, NOV.28-Dec.2, 2005
Trip Report: BIRDING IN TAIWAN, NOV. 7-16, 2005
ANNOTATED SPECIES LIST, Taiwan, NOV. 7-16, 2005
Trip Report: BIRDING IN TAIWAN, MAY. 2-11, 2005
ANNOTATED SPECIES LIST, Taiwan, MAY. 2-11, 2005
Trip Report: BIRDING IN TAIWAN, MAY. 21-24, 2005
ANNOTATED SPECIES LIST, Taiwan, MAY. 21-24, 2005
Trip Report: BIRDING IN TAIWAN, NOV. 8–17, 2004
ANNOTATED SPECIES LIST, Taiwan, NOV. 8–17, 2004
Taiwan Trip Report, March 21 – 28, 2003
ANNOTATED SPECIES LIST, Taiwan, March 21 – 28, 2003
Taiwan Trip Report, November 11-19, 2003
ANNOTATED SPECIES LIST, Taiwan, November 11–19, 2003
BirdingASIA -Birdwatching in Taiwan
Black-browed Barbet

BIRDING IN TAIWAN

ENDEMICS and BLACK-FACED SPOONBILL

NOVEMBER 6–19, 2006
To Portuguese sailors in the 16th century, it was Ilha Formosa, "Beautiful Island," because of its lush forests and the jagged peaks of its mountainous spine.
The island we now know as Taiwan, lying 160 km (100 miles) off the coast of China, has diverse habitats; from tidal estuaries, cultivated fields, wetlands, lowland mixed forests, to montane deciduous broadleaf and coniferous forests.
The island still has beautiful forests and mountains, where 15 endemic species reside: Taiwan Partridge, Swinhoe's Pheasant, Mikado Pheasant, Styan's Bulbul, Flamecrest, Formosan Whistling-Thrush, Taiwan Bush-Warbler, Collared Bush-Robin, White-Whiskered Laughingthrush. Steere's Liocichla, Taiwan Barwing, White-eared Sibia, Taiwan Yuhina, Yellow Tit, and Formosan Magpie.
Although 470 species of birds have been recorded, about 300 can be considered to occur regularly, including more than 60 endemic subspecies. Perhaps 10 of these subspecies are candidates for full endemic species status. Seeing the pheasants, partridge and quail requires some luck, especially for the shy, solitary Taiwan Partridge. The blue, white and red male Swinhoe's Pheasant is unforgettable, as is the sleek black, white and red male Mikado Pheasant, "King of the Mist. We will be alert for the uncommon (Taiwan) Hwamei, fairly common Black-browed (Muller's) Barbet, the next Taiwan endemics.
The main focus of the tour is on the endemic species and subspecies of Taiwan, and the specialities of Lanyu Island. A secondary focus is the endangered Black-faced Spoonbill. Approximately one half of the world population winters in the Tsengwen River estuary, near the city of Tainan.
Taiwan is a safe, welcoming country, with good infrastructure, a strong conservation movement, classic mountain scenery, friendly people, wonderful food and much to offer visitors.
Leaders: Simon Liao, Honourary Chairman, Wild Bird Federation of Taiwan and Jo Ann MacKenzie, International Taiwan Birding Association.
Summary:
6 to 10 participants with 2 leaders

Major habitats of the west coast, central mountains, Taroko Gorge, the southeast, and Lanyu Island

Moderate pace

Mostly easy to moderate walking; some steep paths in "high mountain" habitat

Accommodation with private bathrooms

Chilly to cold at high elevations; warm to hot and humid at low elevations

Transportation by air-conditioned bus

Opportunities to sample Taiwanese culture and cuisine
ITINERARY
6 November (Monday), Day 1
Fly EVA Airways at 1:00 a.m., from Vancouver to Taipei. It will be necessary to be at Vancouver International Airport by 9:30 p.m. on the evening of November 5, for flight check-in.
7 November (Tuesday), Day 2

Taoyuan (formerly Chiang Kai-Shek) International Airport, in Taoyuan County, 50 km west of Taipei at 5:30 a.m. We will transfer to our bus, drive south and begin to climb to the Wufeng area, 300 to 400 m (1,000 to 1300 feet) elevation. We will make stops in suitable habitat to look for Collared Finchbill, Formosan Whistling Thrush, Black-browed (Muller`s) Barbet, Gray-capped Woodpecker, Formosan Magpie. Then we will turn east and climb higher to Huisun Forest Station. Possibilities include Formosan Magpie, Ashy Wood-Pigeon, Black-browed Barbet, Gray-capped Woodpecker, Gray-chinned Minivet, Gray Treepie, Black Bulbul, Rufous-capped Babbler, White-bellied Yuhina, Chinese Bamboo Partridge and Swinhoe's Pheasant.

Night at Atayal Resort, in Huisun Forest Station, 770 m (2530 ft.) elevation.

Formosan Magpie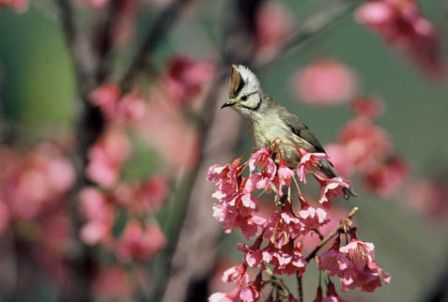 Taiwan Yuhina
8 November (Wednesday), Day 3
Early morning at Huisun Forest Station. Leaving Huisun after breakfast, we backtrack somewhat, then continue eastward through Puli, the geographic center of Taiwan, and begin to climb again toward Aowanda National Forest Recreation Area (elev. 1200 m (3900 ft.). At Aowanda, we will check Naoliao Creek for Plumbeous Redstart and with luck, the rare Little Forktail, watch for Taiwan Yuhina, Yellow Tit, Hwamei, Fire-breasted and Plain Flowerpeckers, Black-browed Barbet, and after dark, try for Mountain Scops-Owl. Night at Aowanda.
9 November (Thursday), Day 4
In the early morning, we may see Chinese Bamboo Partridge and Rufous-faced Warbler. Leaving Aowanda, we will to climb to Chingjing, stopping on the way in an open area of farm fields that can be productive for raptors. We will arrive at Chingjing in mid-afternoon, and explore a little of the Blue Gate Trail #1 before going to our hotel. Night in Chingjing, elev. 1750 m (5740 ft.)
10 November (Friday) Day 5
We will make an early morning start to the Meifeng area in "high mountain" habitat, to walk the Rueiyan River Trails, nicknamed "Blue Gate Trails", elev. 2200 m (7200 ft.) Trail #1 is about 3 km, end to end. Local people call them Shueiguan [Water] Trails, because of the water pipes that lie alongside. Possibilities include White-tailed Robin, Swinhoe's Pheasant and perhaps with much luck, the very shy Taiwan Partridge. We will also be alert for White-eared Sibia, Taiwan Yuhina, Collared Bush Robin, Taiwan Barwing, Steere's Liocichla, Pygmy Wren-Babbler, White-browed Shortwing (the wren-babbler and shortwing are both hard-to-see skulkers), Vineous-throated Parrotbill, Eurasian Nuthatch, White-throated Laughingthrush, and others.
In the afternoon, we will continue to look for mountain species. Return to Chingjing for the night.
11 November (Saturday), Day 6
Early morning birding at Blue Gate Trail #2. Then, we will drive higher yet, to the Hehuan Shan Forest Recreation Area, elev. 3275 m (10,750 ft.), the highest elevation of the tour, just inside the western edge of Taroko National Park. ("Shan," means "mountain "or "hill" in Mandarin; in this case, "mountain.") We will look for White-whiskered Laughingthrush, Flamecrest, Alpine Accentor, Vinaceous Rosefinch, Coal Tit, and Yellow Tit. We will continue eastward through the upper part of the Taroko Gorge, in Taroko National Park, to Tienhsiang looking for Styan's Bulbul. Night at Tienhsiang, elev. 485 m (1592 ft.)
12 November (Sunday), Day 7
Early morning birding in the Tienhsiang area. Then we will drive eastward, through the spectacular Taroko "Marble Gorge". The gorge is one of the scenic wonders of Asia, created by immense tectonic forces combined with erosion by the Liwu River. It will be necessary to be there early to avoid the many large tour groups that flock into the Gorge. We will watch for Brown Dipper, Little Forktail, and Fork-tailed Swift among the hundreds of House Swifts. We will exit through the park's East Gate, turn south to Hualien and drive along Taiwan's scenic east coast, crossing the Tropic of Cancer, to Taitung, arriving in time for our 20-minute flight to Lanyu (Orchid) Island, about 65 km east of the southern tip of Taiwan proper.
Most of Lanyu's inhabitants are aboriginal Yami people, whose culture is closer to that of the Philippines than of Taiwan. After transferring to Hungtou (Red-head) village, we will spend the rest of the day birding this fascinating island. Lanyu is very different from Taiwan and we will look for the specialties of this island: Philippine [Brown] Cuckoo Dove, Japanese [Black] Paradise-Flycatcher, Brown-eared Bulbul, Lowland White-eye and Whistling Green-Pigeon. After dark, we will search for "Lanyu" Scops-Owl a subspecies of Ryukyu Scops-Owl endemic to Lanyu Island. Night in Hungtou.
13 November (Monday), Day 8
Early morning birding on Lanyu Island. It will be necessary to take the 11:45 a.m. flight back to Taitung, as the ferry service will be discontinued for the winter. On arrival in Taitung, we will have lunch, then drive south to Kenting in Taiwan's tropical "far south." Night in Kenting.
14 November (Tuesday), Day 9
Birding in the Kenting area, including Kenting National Park and Long Luan Tan Lake, looking for Ruddy-breasted Crake, White-breasted Waterhen and other wetland species. Endemic Styan's Bulbul is easily found in the Kenting area. Night in Kuang Tselin at a hotel with hot spring pools.
15 November (Wednesday) Day 10
Morning birding in the Tsengwen Dam area, elev. 220 m, (859 ft.), looking for Maroon Oriole, Collared Finchbill, Spot-breasted Scimitar-Babbler and other species of mid-elevation woodland below the dam. We will also go to the very specialized water-chestnut habitat in the Kwangtien wetland for Pheasant-tailed Jacana. Adjacent dry, post-harvest rice fields may hold Oriental Skylark and Zitting Cisticola. Night in Tainan.
16 November (Thursday), Day 11
| | | |
| --- | --- | --- |
| All day in the Tainan-Chiku area wetlands, where a large percentage of the world's Black-faced Spoonbills winter. Cinnamon Bittern and Yellow Bittern are possible. We will continue north, re-crossing the Tropic of Cancer, to bird the extensive wetland and upland habitat of Aougu. Night in Chiayi. There may be an opportunity to browse through the lively Night Market. | Black-faced Spoonbill | |
17 November (Friday) Day 12
Morning drive to return to "high mountain" habitat in A Li Shan Forest Recreation Area, making a stop on the way to try for the shy Rusty Laughingthrush. After reaching A Li Shan, we will have the rest of the day to look for species we may have missed in montane habitat earlier. Night in A Li Shan village, elev. 2200 m (7,200 ft.)
18 November (Saturday) Day 13
Early morning birding, A Li Shan. In mid morning, we will drive higher, to the Tataka Recreation Area, 2600 m (8,536 ft.) in Yushan National Park for more "high mountain" specialties. Yushan National Park is known as "The ridge of the roof of Taiwan." We will be within sight of Yushan Peak, also called Jade Mountain. At 3952 m (just under 13,000 ft.), Yushan Peak is the highest mountain in East Asia. Possible species include Eurasian Nutcracker, Gray-headed Bullfinch, White-whiskered Laughingthrush, Flamecrest, Mikado Pheasant, Yellowish-bellied Bush-Warbler, Brownish-flanked Bush-Warbler. With much luck, we might come across Taiwan Bush-Warbler (very difficult to find outside of the breeding season). Then it will be time to leave the high mountains and return to lowlands. The post-harvest fields in Huatan, south of Changhua are often productive in fall for migrant and wintering seed-eaters. If time permits and the tides are right, we may go to Hambao for another opportunity for wetland species and shorebirds. Night in Changhua.
19 November (Sunday) Day 14
This will be a "Taiwan culture" day. We will drive north to Taipei county, with a stop for a highlight, the Sanshia Temple noted for its exquisite carvings, including more than 100 different birds. Lunch. Continue to Taipei to visit the superb National Palace Museum, which holds the world's largest collection of Chinese artefacts. Shopping opportunity in the extensive Chinese Handicraft Mart, where a vast array of quality goods, from inexpensive to fine art, are available at fair prices. After a long day, relax at a "day spa" before supper. After supper, drive to Taoyuan International Airport to await our EVA Airways departure at 11:50 p.m., to Vancouver; arriving at 6:10 p.m. the same day.
GROUP SIZE:
Maximum of 10 participants with 2 leaders
COST PER PERSON,
From Vancouver, BC, Canada: 14 days
CAD $5100 (sharing); CAD $5600 (single)
From Taipei, Taiwan: 13 days
CAD $4000 (sharing); CAD $4500 (single)
Register before August 31; deduct CAD$400 from price.
DEPOSIT: CAD $500
For further information, please contact:
Simon Liao
E-mail: birdsimon0624@yahoo.com.tw
Taiwan
or
Jo Ann MacKenzie
15341 – 21 Avenue
Surrey,BC, V4A 6A8
Canada
Phone: 604-538-1676
E-mail: j.a.mackenzie@telus.net
INTERNATIONAL TAIWAN BIRDING ASSOCIATION

Good birds, good food, good friends!