TRIP REPORT: BIRDING IN TAIWAN,

November (6)7–19, 2006

Leaders: Simon Liao and Jo Ann MacKenzie

Text and photos: Jo Ann MacKenzie
Endemic species in BOLD
Taiwan is a mountainous island in the South China Sea, about 175 km (110 mi.) off the Chinese mainland. The forested beauty of the island led Portuguese sailors in 1590 to call it Ilha Formosa, meaning "Beautiful Island." The tropic of Cancer passes through the southern part of the island.
Participants arrived in Taiwan early, and had a day's birding with Simon Liao in the Taipei area before the tour formally began. Among the species seen that day was FORMOSAN MAGPIE in Yangminshan National Park. That was the only day that the magpie was seen, therefore it is not included on the official Trip Results List. Because tour participants were satisfied with that sighting, the tour itinerary was adjusted to omit other Formosan Magpie habitat in favour of more time in higher mountain habitats.
Tuesday, November 7 To Dasyueshan
We started up the Mt. Tahsueh Road to Dasyueshan­­, stopping for a leg-stretch now and then, and coming upon Collared Finchbill, Crested Goshawk and Crested Serpent-Eagle on the way. We stopped at the observation platform at Km 23.5, where Idesia polycarpa trees were in fruit. In fall and winter, the trees' red berries attract many birds. On that day, the Idesia and other trees held White-eared Sibia, Steere's Liocichla, Yellow Tit, Black-throated and Green-backed Tits, Eurasian Nuthatch, Gray-cheeked Fulvetta, Gray-chinned Minivet and a transient Mugimaki Flycatcher. An Oriental Honey-Buzzard and 3 White-throated Needletails appeared overhead. Intermittent fog rising from the valley occasionally made viewing difficult.
Continuing on, we crossed a very steep, precipitous slope on a new, sturdy, concrete bridge, situated well away from the crumbling face of the slope, and which replaces the two former roads that were destroyed by typhoons in 2004 and 2005. Soon after, we arrived at the Dasyueshan National Forest Recreation Area in the Anmashan mountain range. Stopping along the road again, we located Taiwan Barwing, Taiwan Yuhina, and Rusty Laughingthrush. Making use of the remaining daylight, we went straight to Trail 210 where a Pygmy Wren-Babbler bathed in a puddle on the path; Collared Bush-Robin, Black-throated Tit, Eurasian Jay were also seen and White-browed Shortwing was heard. After dark we continued to the Visitor Center, supper and our cottages.
Wednesday, November 8 Dasyueshan
We were out at first light and walked Trail 210 again, but no pheasants were found. We drove higher, to Hsiaolaishan (Shiaosyueshan), 2600 m (8,530 ft.), where we found several White-whiskered Laughingthrush, Golden Parrotbill and a briefly, out-of-season-singing Taiwan Bush-Warbler skulked frustratingly along with a Brambling. We had a somewhat better look at a party of White-throated Needletail overhead.
In the afternoon, we tried Trail 210 again, finding Scaly Thrush, but still no pheasants.
Thursday, November 9 Dasyueshan to Chingjing
Steere's Liocichlas began to vocalize at 4 a.m, but we didn't have to get up until 5. At 6 we were on the road to Hsiaolaishan again, watching for the Mikado Pheasants that park staff told us they often see along that road…but not that day. We returned to the Visitor Center for breakfast, and spent the rest of the morning back on Trail 210; the leaders staying behind in hopes that the smaller group on the trail would have better success with pheasants. Unfortunately, still none. We would have to try again, elsewhere.
We left the park. On our way down the mountain, we were surprised to discover a Siberian Flycatcher, a rare transient in Taiwan, perched on a snag.
Between Fengyuan and Dongshih, we stopped at the Shihgang Dam on the Dajia River (Tachia Hsi), where the river had become a waterfall after the severe (M7.3) earthquake of September 21, 1999. (The earthquake's epicentre was near the town of Chichi in Nantou County.) Great and Little Egrets fed in the river; Plain Martins flew overhead.
Following lunch in Taichung, we drove back into the mountains, on Highway 14 to Chingjing. After checking into the Chingjing Resort, we headed on up to the Meifeng area and the Rueiyan River Trail, "Blue Gate 2" section, to look for pheasants. We found White-bellied Pigeon, Vivid Niltava and heard White-browed Shortwing and Taiwan Macaque. As the afternoon faded into twilight, we hoped for pheasants, but were disappointed, again.
Friday, November 10 Chingjing–Meifeng
After an early "birders' breakfast", we returned to the Rueiyan River Trail, this time the "Blue Gate #1" section. We were heartened to find fresh tracks of Swinhoe's Pheasant and the smaller Taiwan Partridge in the mud. We heard the Partridge calling, but could not see it. Again, to increase the group's chances with pheasants, the leaders withdrew—but the tactic didn't help. However, other species seen included Taiwan Yuhina, White-eared Sibia, White-browed Shortwing, Black-throated Tit, Black-browed Barbet (endemic-to-be), Ashy Wood-Pigeon, Brownish-flanked Bush-Warbler, and Crested Goshawk overhead. A return to Blue Gate #2 produced 6 Eye-browed Thrushes, but no pheasants.
After lunch, we drove a very rough back road (under repair) to a different mountain, Beidongyanshan, for another pheasant search. This time a female Swinhoe's Pheasant was glimpsed.
Saturday, November 11 Chingjing to Fushih
We tried the Blue Gate #1 area yet again, finding Taiwan Yuhina, White-eared Sibia, along the trail; Black-throated Tit, Spot-breasted Scimitar-Babbler, Ashy Wood-Pigeon, Fire-breasted Flowerpecker along the road, Mountain Hawk-Eagle and a small flock of White-throated Needletail overhead.
Giving up on pheasants in this area this time, we drove higher, to Hehuanshan, just inside the western entrance of Taroko National Park. During the climb, we were surprised to see that the highway was infested with motorcycles in a hurry, passing us on both sides, and taking some life-threatening risks. "What's this all about?" we wondered. On reaching the motorcycle-jam-packed parking area at Wuling ("Big Wind") at 3275 m (10,750 ft.), we found out—there was a cycle rally in progress. Hundreds of motorcyclists had gathered for a brief time, then would rush back down the mountain. We would not have to contend with them any farther. In spite of the noise and crowd of people, we found a dozen Alpine Accentors on the rocks around and below the lookout.
Continuing on, we found a Bronzed Drongo and Winter Wren below Hohuan Youth Hostel. Flamecrest and Gray-headed Bullfinch were in the fir and hemlock trees behind the High Altitude Experimental Station of the Taiwan Endemic Species Research Institute and the Visitor Center at Shiaofongkou ("Little Wind Gap").
Making several stops, we continued down the east side of the mountain, finding several Styan's Bulbuls on the way. We continued on to Fushih, at the park's east gate, for the night.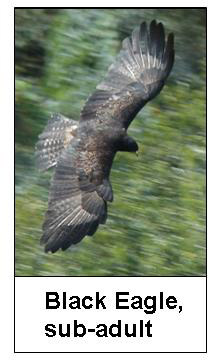 Sunday, November 12 Fushih to­Taitung
After early morning birding around Fushih (more Styan's Bulbuls) and breakfast, we drove south a short distance along the east coast, then through the East Rift Valley National Scenic Area to Chihshang. Wind was blowing strongly from the northeast, making birding in the open, around Big Wave Pond difficult. Ring-necked Pheasant is an uncommon resident in Taiwan; we found 9 in Chihshang farmland. After lunch, we continued to Taitung.
We were supposed to fly to Lanyu Island in mid-afternoon, but all 6 daily flights to Lanyu had been cancelled due to the strong wind. So, we made a visit to Taitung's excellent Museum of Pre-history instead. Late afternoon birding in Chihpen wetland was somewhat hampered by wind, but we did find wintering party of White-shouldered Starling. We spent the night at the Aboriginal Culture Hotel, and hoped for better conditions in the morning.
Monday, November 13 Taitung to Lanyu Island
We had a productive morning birding along the Lichia Trail near Chihpen, with superb views of a sub-adult Black Eagle. We also saw [Taiwan] Hwamei (endemic-to-be), Crested Serpent-Eagle, Maroon Oriole, Emerald Dove, Chinese Bamboo-Partridge, Yellow-browed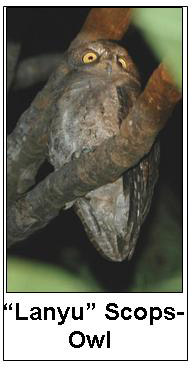 Warbler, and Black-naped Monarch.
Back in Taitung, we had lunch at an aboriginal-owned restaurant, then went to the airport to try to get on a flight to Lanyu, along with everyone else whose flights had been cancelled yesterday. We succeeded in making the 3:45 p.m. flight, and 20 minutes later, landed on Lanyu Island. After checking in at the hotel and picking up our rental van, we drove to "Flycatcher Creek" where we walked down a rock-strewn dry creek bed in dense forest. There was a brief glimpse of a Japanese Paradise-Flycatcher in the dim and failing late afternoon light.
After supper, we went owling for Ryukyu "Lanyu" Scops-Owl, Otus elegans botelensis, endemic to Lanyu Island. We heard several and saw two; one just beyond the south edge of the village, and another in trees among village houses.
Tuesday, November 14 Lanyu Island to Kending
A pre-breakfast search for Whistling Green-Pigeon failed to find any. Philippine Cuckoo-Doves were scarce. In the ferry basin, we spotted a single Horned Grebe, vagrant in winter in Taiwan; Common Sandpiper, Snowy Plover, 20 Blue Rock-Thrush (19 philippensis and 1 pandoo subspecies; M. s. pandoo is vagrant), Several Brown-eared Bulbul and Lowland White-eye. Late morning showers turned to hard rain by noon, and the wind began to blow again. The 2:40 p.m. flight back to Taitung was "bumpy." Rain continued with strong wind during the drive south to Kenting, where we stayed in the Kending Youth Activity Center. The attractive complex is built in the architectural style of Fujian in southern China.
Wednesday, November 15 Kenting to Tainan
The wind blew strongly all night and continued into the morning. On the way out of town in the early morning, we stopped at Long Luan Tan (Lake), but the wind interfered with birding. The rice crop had been harvested, and there was little cover for birds. Crakes and rails were not to be seen but we did find more Styan's Bulbul, Light-vented Bulbul, Purple Heron, and on the lake, Tufted Duck, Spot-billed Duck and Common Moorhen.
We departed Kending, continuing north and inland. We drove out of the northeast wind and back into hot, humid conditions. We could not find the last known pair of Black-naped Orioles at Inda Eco-Farm, but did find Asian Brown Flycatcher (uncommon transient), Gray-capped Woodpecker, Pale Thrush, Japanese Sparrowhawk (another uncommon transient), Gray Treepie, Black kite and Bronzed Drongo.
After lunch in Chiku, we investigated wetland habitats in the Tainan-Chiku area, including the Tsengwen River Estuary where 579 Black-faced Spoonbills were wintering. Also there were 2 Saunders' Gulls, Black-winged Stilt, Eurasian Curlew, Dunlin, and Sacred Ibis (introduced). Continuing to Cihtao wetland, we found Cinnamon Bittern, Black-crowned Night-Heron, Garganey, Pacific Golden and Black-bellied Plover, Little Ringed Plover, Lesser Sandplover, Common Redshank, Common Greenshank, Marsh Sandpiper, Wood Sandpiper, Red-necked Stint, and Caspian Tern. Night in Tainan.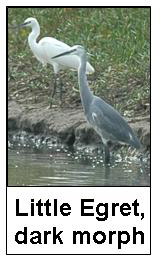 Thursday, November 16 Tainan to Alishan
In the morning, we drove north to the mouth of the Pachang River in Chiayi County. A Chinese Crested Tern had been found there in April, 1998, and we had a faint hope that we might be lucky enough to find another. We didn't, but we did find a dark-morph Little Egret, only the second record for Taiwan. We also found Yellow Bittern, Black-headed Gull, Eastern Yellow Wagtail and hundreds of Whiskered Tern.
After lunch in Chiayi, we headed back into the mountains, to Alishan. We stopped in the Shihchou area on the way, for Swinhoe's Pheasant. Arriving at Alishan, we settled into our comfortable, heated cabins at the Alishan Youth Activity Center, at 2216 m (7,275 ft.). Rain and darkness prevented any more birding.
Friday, November 17 Alishan
We set out in darkness for Tataka Recreation Area in Yushan National Park, hoping to find Mikado Pheasant in the park. Success! A male pheasant fed peacefully along the roadside and we were able to quietly watch him for several very satisfying minutes. At the Couple Trees, there was a Dusky Thrush (eunomis race), Collared Bush-Robin, and Alpine Accentor nearby. We briefly joined a crowd of non-birders to watch the sunrise, an activity that brings thousands of tourists to Alishan each year. Reaching Tataka Recreation Area at 2600 m (8,536 ft.), there was very little bird activity except for a bold White-whiskered Laughingthrush at our feet, several Steere's Liocichla, Streak-throated Fulvetta, Eurasian Jay, Eurasian Nutcracker, a White-browed Shortwing and Yellowish-bellied Bush-Warbler.
After lunch at the Tataka Visitor Center (noon temperature, 15°C; 59°F), we birded our way back toward Alishan and our cabins. Along the way, we found Brambling, White-eared Sibia, Taiwan Barwing, Rufous-capped Babbler, Black-throated and Green-backed Tit, and a large owl that disappeared into the forest before we could identify it. Two people had a fleeting glimpse of a Eurasian Woodcock, a rare winterer in Taiwan.
Saturday, November 18 Alishan to Changhua
We departed Alishan at 5:30 a.m. and headed down the mountain to the Shihchou area again. Birds seen along the steep side road above the village included Taiwan Partridge and Swinhoe's Pheasant, Taiwan Yuhina, White-bellied Yuhina, White-eared Sibia, Black-browed Barbet, White-backed and Gray-capped Woodpeckers, Black Bulbul, Formosan Whistling-Thrush, Scaly and Pale Thrushes, Yellow-browed and Rufous-faced Warbler, Snowy-browed Flycatcher, Mugimaki Flycatcher, Vivid Niltava, Daurian Redstart, White-tailed Robin, Black-naped Monarch, Steere's Liocichla, Black-throated and Green-backed Tits, Gray Treepie, another glimpsed Eurasian Woodcock, and many Large-billed Crows. A very successful morning, followed by lunch at the Firefly in Kwanghua.
After lunch, we continued to the lowlands, reaching the Changhua area in time for some late afternoon birding in the rice stubble fields of the Pinheur area (Huatan). We found a small party of White-cheeked Starlings perched on an overhead wire. Walking the edges of the fields, through patches of brush and around wet places, produced Barred Buttonquail, Ruddy-breasted Crake, Greater Painted-snipe, Common Snipe, Little Ringed Plover, Wood Sandpiper, Oriental Skylark, White Wagtail, Eastern Yellow Wagtail, Zitting Cisticola, Brown Shrike, European Starling, Yellow and Black-faced Bunting (winterers), and many Eurasian Tree Sparrows.
After an ample supper at a Japanese hot pot restaurant, we retired to the Formosa Hotel.
Sunday, November 19 Taoyuan and Taipei
We drove north from Changhua to the small city of Sanchia in south western Taipei County to visit the unique Sanshia Tsu Sze Temple, popularly known as the "Bird Temple," with over a hundred birds carved in wood, in relief on stone pillars and incised on stone panels. After lunch, we continued north to Taoyuan International Airport for evening departures. The rest of the group returned to Taipei to an exhibition of bird photos by K. K. Kuo. The tour concluded.
- - - - - - - - - - - - - - - - - - - - - - - - -
Results: All 15 endemic species were seen, but one of these, Formosan Magpie was seen only on the one-day pre-tour.
The total bird species for the formal tour was 183; a new November "high.'
Ù Ù Ù Ù Ù