Scheduled Tours
July 18-20, 2007 Tour for Chinese Crested Tern (Matsu Tern)
Trip Report: BIRDING IN TAIWAN, May (7)8–20, 2007
ANNOTATED SPECIES LIST, May (7)8–20, 2007
Trip Report: BIRDING IN TAIWAN, November (6)7–19, 2006
ANNOTATED SPECIES LIST, November (6)7–19, 2006
Trip Report: BIRDING IN TAIWAN, May. 1-14, 2006
ANNOTATED SPECIES LIST, Taiwan, MAY. 1-14, 2006
BIRDING IN TAIWAN, Jan 29–Feb. 3, 2006
Trip Report: BIRDING IN TAIWAN, FEB.24-26, 2006
Trip Report: BIRDING IN TAIWAN, NOV.28-Dec.2, 2005
ANNOTATED SPECIES LIST, Taiwan, NOV.28-Dec.2, 2005
Trip Report: BIRDING IN TAIWAN, NOV. 7-16, 2005
ANNOTATED SPECIES LIST, Taiwan, NOV. 7-16, 2005
Trip Report: BIRDING IN TAIWAN, MAY. 2-11, 2005
ANNOTATED SPECIES LIST, Taiwan, MAY. 2-11, 2005
Trip Report: BIRDING IN TAIWAN, MAY. 21-24, 2005
ANNOTATED SPECIES LIST, Taiwan, MAY. 21-24, 2005
Trip Report: BIRDING IN TAIWAN, NOV. 8–17, 2004
ANNOTATED SPECIES LIST, Taiwan, NOV. 8–17, 2004
Taiwan Trip Report, March 21 – 28, 2003
ANNOTATED SPECIES LIST, Taiwan, March 21 – 28, 2003
Taiwan Trip Report, November 11-19, 2003
ANNOTATED SPECIES LIST, Taiwan, November 11–19, 2003
BirdingASIA -Birdwatching in Taiwan
TRIP REPORT: BIRDING IN TAIWAN,

May 7–20, 2007

Leaders: Simon Liao and Jo Ann MacKenzie

Text and photos: Jo Ann MacKenzie
Endemic species in BOLD
Taiwan is a mountainous island in the South China Sea, about 175 km (110 mi.) off the Chinese mainland. The forested beauty of the island led Portuguese sailors in 1590 to call it Ilha Formosa, meaning "Beautiful Island." The Tropic of Cancer passes through the southern part of the island.
Tuesday, May 8 - Taipei to Huisun
After picking up the participants in Taipei, the airport and Changhua we headed to our first birding stop in the Wufeng area, at 400 m (1,300 feet elevation), where we usually are able to get a good look at Fairy Pitta, but not this time. We did see Oriental Cuckoo, though and [Taiwan] Hwamei, an endemic subspecies which is expected to be elevated to full species status in the near future. This stop also gave us our first Vinous-throated Parrotbill, Rufous-capped Babbler, Black-naped Monarch, Gray Treepie and Streak-breasted Scimitar-Babbler.
After buying picnic-lunch supplies at a Family Mart we continued on to Huisun National Forest Recreation Area (770 m; 2,600 ft). Stopping at the park gate, we located Maroon Oriole and FORMOSAN MAGPIE; a month earlier, both species were tending nests there. We also saw the first of many [Taiwan] Black-browed Barbets, another endemic subspecies expected to be recognized as a full endemic species. After checking into our rooms in the Atayal Resort, we birded the grounds. Some of the group headed uphill to try for Swinhoe's Pheasant; others stayed below. Just before supper, the pheasant-searchers returned and reported their lack of success. After supper; a Mountain Scops-Owl was calling just outside our rooms and was glimpsed when it flew to another tree. A calling Brown wood-Owl remained concealed on the hillside in spite of our efforts to locate it.
Wednesday, May 9 - Huisun to Chingjing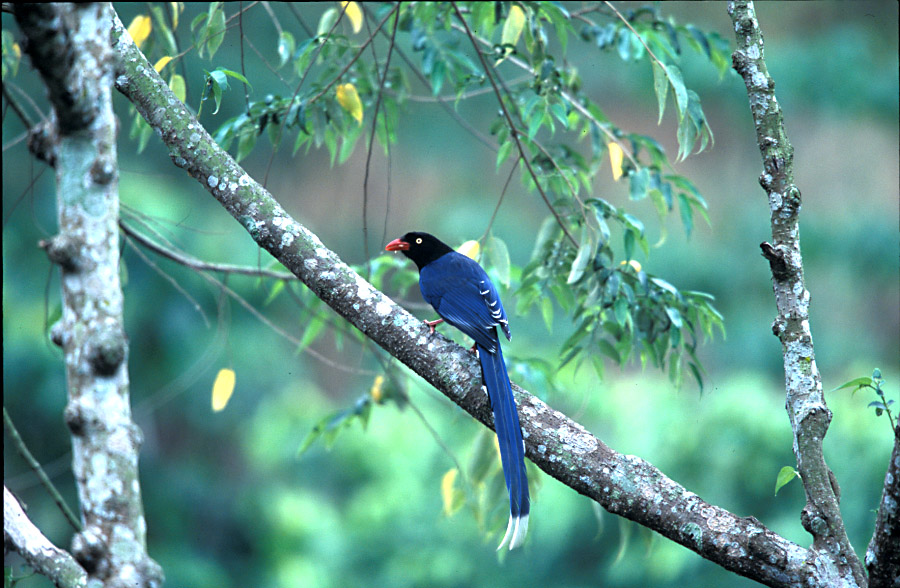 The pheasant-searchers headed up the mountain very early; returning at breakfast-time, unfortunately having found no pheasants. In the meantime, the rest of the group birded the area around the main visitor center. Two family groups of FORMOSAN MAGPIES were busy. A distant Large Hawk-Cuckoo and Taiwan Partridge called from the forest. We drove down to another part of the reserve where we watched for birds while having coffee. We saw Gray Treepie and Varied Tit before moving on.
Our afternoon destination was Aowanda National Forest Recreation Area. Stops along the way gave us more Streak-breasted Scimitar-Babblers, Collared Finchbill, Besra, Gray-faced Buzzard, Crested Serpent-Eagle, Common and Javan Myna Acridotheres javanicus. Both Common and Javan Myna (sometimes called White-vented Myna) were introduced, the latter becoming increasingly widespread to the detriment of the native Crested Myna.
Arriving at Aowanda, some of the group headed for the waterfalls of Naoliao Creek, finding Plumbeous Redstart, Little Forktail and FORMOSAN WHISTLING-THRUSH. Others stayed below, seeing Varied Tit, Gray-capped Woodpecker, Eurasian Nuthatch, Green-backed Tit, Vivid Niltava, and Gray-chinned Minivet. We added another person to our group, Judia Tung of the Nantou Forest District, who would be our local guide for three days.
We left Aowanda and climbed higher to the town of Chingjing, at elev. 1,750 m (5,740 ft.), and the mountainside Chingjing Resort.
Thursday, May 10 - Chingjing
After an early "birders' breakfast" at 5 a.m, we set off for Blue Gate Trail #1, one of the Rueiyan River Trails. The weather had been unusually dry for a couple of weeks, reducing the mud and puddles on the trail. Nevertheless, we were glad of the rubber boots that we borrowed from the resort. The bright, sunny morning apparently wasn't to the pheasants' liking, and none were found, although we heard TAIWAN PARTRIDGE. Endemics were STEERE'S LIOCICHLA, TAIWAN YUHINA, WHITE-EARED SIBIA. We had good looks at a small party of White-throated Laughingthrushes, White-tailed Robin, Rufous-capped Babbler, Green-backed and Black-throated Tits, Rufous-faced Warbler and Snowy-browed Flycatcher. Small birds began to scold something only they could see in a dense low tree upslope from the trail; after a while, the object of their harassment, a Collared Owlet, flew out, but only one person saw the tiny owl before it disappeared back into shadows. Out along the sunny Highway 14 roadside, colourful Byasa polyeuctes termessus butterflies were quite active.
After lunch at the Resort, birding from the patio and play with Shao-mi, the energetic family dog, we returned to the forest and Blue Gate Trail #2. We found more of the same species we saw in the morning, plus Vivid Niltava, Ferruginous Flycatcher, White-browed Shortwing (seen, at last,) and good looks at Pygmy Wren-Babbler in a sunny spot in the undergrowth. We returned to Chingjing Resort for supper and the night.
Friday, May 11 - Chingjing toTienshiang
Back to Blue Gate Trail #1 in the early morning, but still no pheasants, so we moved on up to the Hehuanshan Forest Recreation Area and Wuling Pass ("Big Wind"), elev. 3,275 m (10,750 ft.), just inside the western edge of Taroko National Park. There were WHITE-WHISKERED LAUGHINGTHRUSHES in the parking lot; COLLARED BUSH-ROBINS, TAIWAN BUSH-WARBLER (heard but unseen) and Winter Wren on the slope below, and a single Alpine Accentor on the road as we drove on. The Accentors go to higher elevations to nest and can be hard to find in spring. Behind and down slope from the Hohuan Youth Hostel, were more WHITE-WHISKERED LAUGHINGTHRUSHES, Vinaceous Rosefinches, Brownish-flanked Bush-Warblers and a FLAMECREST. We had a simple lunch at the Visitor Center at Shaofongkou ("Little Wind Gap") and continued down the road to the east.
A stop at an abandoned resort at Cihen produced Gray-headed Bullfinches, TAIWAN YUHINAS, WHITE-EARED SIBIAS, a Ferruginous Flycatcher and Gray-chinned Minivet. We kept driving down, to the spectacular Marble Gorge, considered one of East Asia's scenic wonders. There were no Brown Dippers or Little Forktails to be found along the Liwu River this time, but there were FORMOSAN WHISTLING-THRUSHES, Plumbeous Redstarts and Blue Rock-Thrush, as well as many Fork-tailed Swifts going to and from nests in the rock face. We continued on to the Leader Taroko Hotel in Tienshiang, elev. 485 m (1,595 ft.). Mountain Scops-Owls called all night.
Saturday, May 12 - Tienshiang to Chihpen
Following breakfast, we left the hotel and continued east. We walked part of the Shakadang Trail, very scenic, but there were too many other people (a non-birding tour group) for best results. We looked for Brown Dipper and Little Forktail along the Shakadang River. There was a party of eight TAIWAN MACAQUES in trees across the river.
We left the park and drove south on Highway #9. STYAN'S BULBULS were common. Another Blue Rock-Thrush perched atop a statue of Dr. Sun Yat-sen, in Hualien. Maroon Oriole is scarce everywhere in Taiwan, so we were surprised to see a male fly across the highway in front of our bus.
Near Chihshang, we detoured through the property of the Taiwan Sugar Company, looking for the native subspecies of Ring-necked Pheasant. We found 14.
Our destination for the end of the day was Chihpen National Forest Recreation Area (noted for its hot springs) and the Chihpen (Jhihben) River. We walked around the tourist area in the after-supper darkness, hearing Mountain Scops-Owl and Collared Owlet.
Sunday, May 13 - Chihpen to Hungtou, Lanyu Island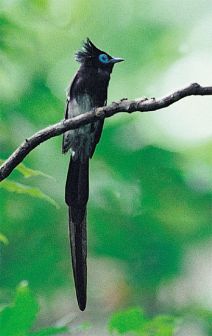 Before breakfast, we found two Brown Dippers in the shallows of the Chihpen River, and several Javan Mynas as well as STYAN'S BULBULS, in the resort village. A distant Fairy Pitta called from across the river, as did a TAIWAN PARTRIDGE and Chinese Bamboo-Partridge.
In the late morning, under darkening clouds, we drove to the airport in Taitung city for our 12:45 p.m., 20-minute flight to Lanyu Island. On landing, we noted that there had been very recent rain; not surprising, as the rainy season normally begins in May, and so far, the month had been unusually dry. After checking into our hotel, we drove to "Flycatcher Creek" for a short hike over the rocks in the dry creek bed to find Japanese Paradise-Flycatcher. After returning to our van, we saw two more females of that species flying back and forth across the road, collecting nesting materials. In the late afternoon, we saw a "fly-by" Ruddy Kingfisher, Philippine Cuckoo-Dove, Whistling Green-Pigeon, Brown-eared Bulbul, Lesser Coucal, an Emerald Dove on the road, a Barred Buttonquail running through a taro field, and an Oriental Pratincole in the air.
We went owling after supper, and saw a "Lanyu" Scops-Owl, a subspecies of Ryukyu Scops-Owl that is endemic to Lanyu Island. We also noted many toads on the road, making their way in the same direction. Stopping to investigate, we saw that they were Spectacled Toads Bufo melanostictus, a common species of southern Asia. As this was their breeding season, they were apparently heading for pools and puddles between the road and the sea.
Monday, May 14 - Lanyu Island to Kenting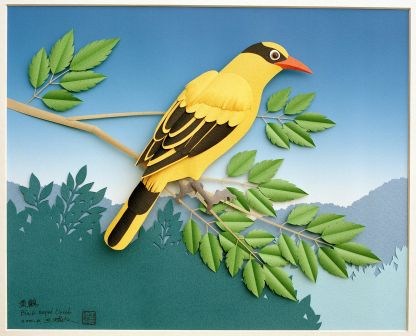 Out for roadside birding at 5:30 a.m: Emerald Dove on the road, again; White-breasted Waterhen, Blue Rock-Thrush, Pacific Reef-Heron, Little Egret, Cattle Egret, and Common Sandpiper were noted. The female Japanese Paradise-Flycatchers were still collecting nesting materials along the road near Flycatcher Creek.
We had close-up looks at a small lizard, endemic Swinhoe's Japalura
For the return trip from Lanyu to Taiwan Island, we boarded the ferry for the 10:30 sailing. It is a fast ferry, foot passengers only (no autos), covering the 77 km (48 mi.) distance to the Eluanbi (Oluanpi) Peninsula in 2.5 hours. On the way, we saw Matsudiara's Storm-Petrels, Streaked Shearwaters, Wedge-tailed Shearwaters, Short-tailed Shearwater, Bulwer's Petrels, and a Brown Booby which followed the ferry for several minutes.
After docking on the sheltered inside of Eluanbi peninsula, and boarding our bus which had gone there to meet us, we drove to the Kenting Youth Activity Center where we would spend the night. We checked in, then headed out again. We were very surprised to encounter a rare Black-naped Oriole near the entrance to Sheding Nature Park. At Long Luan Tan (Lake), Kenting (Kending) National Park, were an Osprey, Zitting Cisticola, Lesser Coucal, Spot-billed Duck, Oriental Skylark, Ruddy-breasted Crake, Oriental Reed-Warbler and Nutmeg Mannikin. After supper in Kenting, some of the group opted for a walk through the night market.
Tuesday, May 15 - Kenting to Kuangtselin
In the morning, we headed north, past Tainan, to the Sihcao Reserve where, by special arrangement, we visited the pond where 11 Black-faced Spoonbills lingered; the rest of the wintering flock of 579 having departed for their breeding area in Korea. While there, we found 2 Chinese Egrets, a rare spring transient in Taiwan. Also present were Snowy Plover, Broad-billed Sandpiper, Sharp-tailed Sandpiper, Curlew Sandpiper, Common Greenshank, Spotted Redshank, Black-winged Stilt and Black-tailed Godwit.
On the way to Sihcao, we had stopped briefly in the town of Madou to investigate the ornate Sanyen Tseng Ching temple, built during the Ching (Qing) Dynasty (1644 - 1911 A.D).
The last stop of the afternoon was at Kwantien Reserve for Pheasant-tailed Jacana; one pair in mating mode. Also, there were 6 Oriental Pratincoles. We continued inland to Kuangtselin for the night.
Wednesday, May 16 - Kuangtselin to Kwanghua
Just around the corner from the hotel is a public park where some of the group saw Malayan Night-Heron.
From Kuangtselin, it was a short trip to the Tsengwen Dam. We walked the road to the dam; along the way were Spot-breasted and Streak-breasted Scimitar-Babbler, Black-browed Barbet, Gray-cheeked Fulvetta, White-bellied Yuhina, and overhead were Crested Serpent-Eagle and Besra.
The group chose to forego some of the planned wetland birding in order to have more time in the mountains. We continued driving up, on the way toward Alishan, stopping at Kwanghua, elev. 1,000 m (3,300 ft.), near Shihjhuo. After checking into the Fireflies B & B in the late afternoon, we went up the very steep road into the forest where we spread out and watched for whatever birds might come along. We hoped especially for Swinhoe's Pleasant and/or Taiwan Partridge. WHITE-EARED SIBIA, White-tailed Robin, Rusty Laughingthrush, Rufous-capped Babbler and Rufous-faced Warbler were seen. After a while, a male SWINHOE'S PHEASANT slowly walked across the road, in view of only one person. A while later, at dusk, three participants found three TAIWAN PARTRIDGES feeding at the road edge. It was too dark to see anything else then, so we all returned to the Fireflies and supper.
After supper, our host, Mr. Liu Chia-shieh led us up and down the road again to see Hairy-footed Flying Squirrel and White-faced Flying Squirrel (endemic sub-species] in the trees. On the way back to the hotel, a Crab-eating Mongoose ran across the road.
Thursday, May 17 - Kwanghua to Alishan
Some of the group went back up the steep road at 4:30 a.m. to try again for pheasants, but without success. After lunch, we departed the Fireflies and continued up to Alishan National Forest Recreation Area in intermittent rain.
After checking into the Alishan Youth Activity Center, we birded the area around the center and Erwanping Railway Station (Alishan Forest Railway). We heard TAIWAN BUSH-WARBLER close by in the undergrowth, but we could not see it. We did see Brown Bullfinch, Eurasian Jay, and Eurasian Nuthatch.
Friday, May 18 - Alishan
At 4:45 a.m., we set off for Yushan National Park, hoping to find MIKADO PHEASANT along the road. With our driver's advice, were lucky to find a pair, with the male allowing good views before he walked into the forest. In the Tataka Recreation Area in Yushan N. Park, we found more WHITE-WHISKERED LAUGHINGTHRUSHES, TAIWAN BUSH-WARBLER (decent looks, at last, as it "hid" under long grass stems), COLLARED BUSH-ROBINS (two families with chicks), Vinaceous Rosefinch, Yellowish-bellied Bush-Warbler, Streak-throated Fulvetta, two White-backed Woodpeckers and Eurasian Nutcracker.
After a noodle-soup lunch at the Visitor Center, we returned to our hotel. On the way, Hector spotted another MIKADO PHEASANT, a female, along the road. During the afternoon, while most of the group napped, Hector found two TAIWAN BARWINGS.
Saturday, May 19 - Alishan to Changhua
There were thunder storms overnight. We did a brief bird walk after breakfast, but didn't find more Barwings or Taiwan Tit. A Snowy-browed Flycatcher appeared briefly along the road. We left Alishan and headed down the mountain in more rain, stopping for a tea break at Shihjhuo, enjoying locally-grown, finest-quality Alishan oolong tea, elaborately prepared in the traditional manner.
We took a slight detour to the Thaushan village area, elev. 1,000 m (3,400 ft.), finding Rusty Laughingthrush, Streak-breasted Scimitar-Babbler, Island Thrush female, Ashy Wood-Pigeon and Plain Flowerpecker. At 900 m (3,000 ft.), we stopped again, for Fire-breasted Flowerpecker, Striated Prinia, and tried again to lure Bamboo Partridge into the open.
In the afternoon, we went to Huben village to make another try for Fairy Pitta. We knew that pittas were present in the lowland forest, but we still could not see any after considerable effort, although we heard a distant call. Local researchers told us that the birds arrived late, very quickly began courting and nesting, and now were silent and unresponsive, a little earlier than usual. We gave up and continued on to Changhua and the Formosa Hotel.
Sunday, May 20 - Changhua to Taipei
The seasonal rains had arrived in earnest; rain all night and almost all this day. Leaving Changhua, we drove north into Hsinchu County. Our knowledgeable bus driver, Mr. Fong, knew that Fairy Pitta nested in the forest in the Tchonglin town area, near his home. This was our last day and last hope for Fairy Pitta; but unfortunately, it was not to be. We heard one pitta call, but it refused to appear. We did get good looks at a juvenile Collared Scops-Owl, Common Kingfisher, Black-naped Monarch, female Mandarin Duck on the pond, and Crested Goshawk in a tree.
We continued to Sanshia to see the famous Tsu-tze Temple (the "Bird Temple") where there were hundreds of birds carved in stone. We had lunch and strolled along the artisans' street before proceeding into Taipei to the Chinese Handicraft Mart for some shopping. The last event was a farewell supper hosted by Legislator Tien Chiu-chin. Then it was time to go to Taiwan Taoyuan International Airport, and the tour concluded.
- - - - - - - - - - - - - - - - - - - - - - - - -
Fourteen of the 15 endemic species were seen.
The total bird species for the tour was 165.