Grey-headed Bullfinch
Pyrrhula erythaca owstoni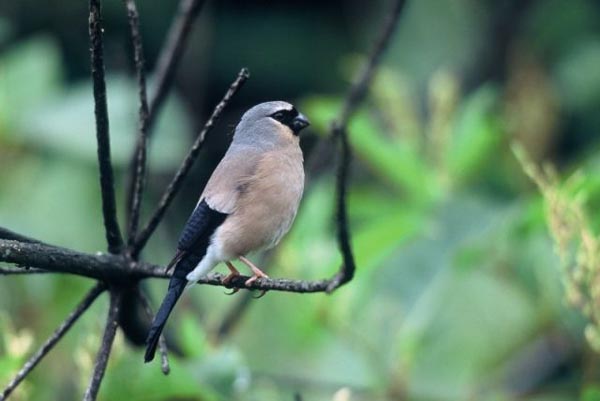 Endemic subspecies
The Grey-headed Bullfinch is a small (17 cm) bird with a gray back, head and nape. The male of Taiwan's owstoni subspecies is lavender-gray below, sometimes with a pinkish or buffy tint on the breast, rather than deep orange-brown as in the mainland subspecies. The face, wings and tail are black. In flight, the grayish-white wing-bar and white rump are conspicuous. The female is browner below and darker gray on the head and nape.
The Grey-headed Bullfinch feeds on seeds and cones, and in winter is usually found in small flocks. The call has been described as a soft "yifu, yifu".
In Taiwan the Grey-headed Bullfinch is a common year-round resident of sub-alpine conifer and mixed forests, descending to lower elevations in winter.
References: A Field Guide to the Birds of China (Mackinnon and Phillipps); 100 Common Birds of Taiwan (Wild Bird Society of Taipei); N. J. Collar, "Endemic subspecies of Taiwan birds—first impressions", in Birding ASIA, Number 2, December 2004