Streak-throated Fulvetta (Taiwan Fulvetta)
Alcippe cinereiceps formosana (Alcippe formosana)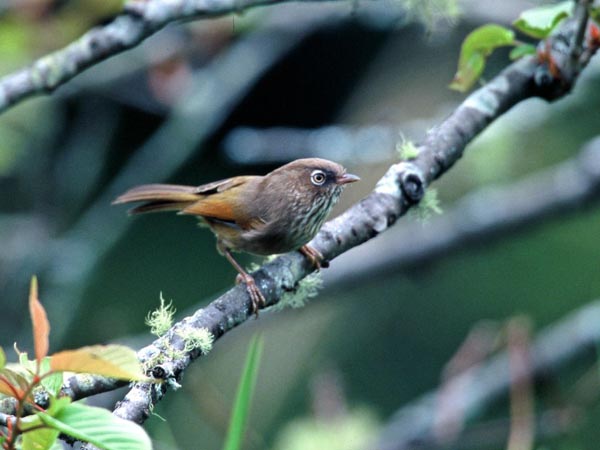 Proposed New Endemic Species
This is a small (11 cm), plain-looking bird with a grayish brown back and tail; the wings are richer rufous brown, and primaries are edged with white, then black then rufous, giving a striped effect. The sides of the head and nape are gray, and the crown is gray with brown lateral lines. The throat is whitish with dusky streaks, the belly is tinged gray, and the sides are pinkish brown. The iris is yellow.

The Streak-throated Fulvetta inhabits the undergrowth of evergreen forests, feeding on insects and small fruits. It is a common resident of Taiwan in mountain forests at medium to high elevations.
Taiwan Fulvetta, A. formosana, is the proposed name for the Taiwan subspecies of Streak-throated Fulvetta, which has been suggested to be distinct enough to merit elevation to full species status (N. Collar, 2006).
References: N. J. Collar, "A partial revision of the Asian babblers (Timaliidae)", FORKTAIL, Journal of Asian Ornithology, No. 22, August 2006, pp. 85–112; A Field Guide to the Birds of China (Mackinnon and Phillipps); 100 Common Birds of Taiwan (Wild Bird Society of Taipei); N. J. Collar, "Endemic subspecies of Taiwan birds—first impressions", in Birding ASIA, Number 2, December 2004