White-throated Laughingthrush (Rufous-crowned Laughingthrush)
Garrulax albogularis ruficeps (Garrulax ruficeps)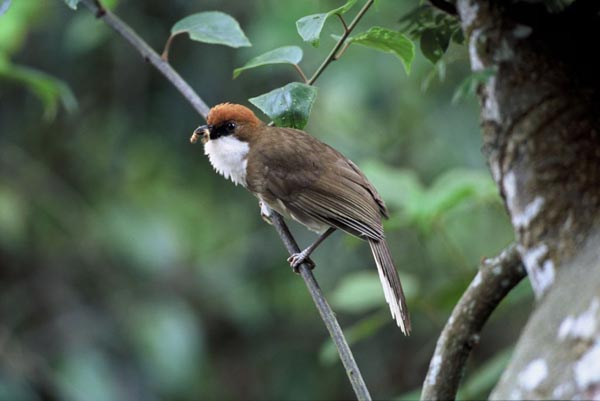 Proposed New Endemic Species
The White-throated Laughingthrush is a medium-sized (28 cm), active and noisy bird with a dull brown back and tail, a bright rufous crown and nape, and a conspicuous white throat and upper breast. The flanks are tinged rufous, there is a grayish brown band bordering the white across the breast, the belly is whitish tinged buff and the undertail coverts are white. The outer four pairs of tail feathers are tipped white. The iris and feet are brown and the bill is black.
The White-throated Laughingthrush makes a variety of squeals, buzzes and laughing calls. It is found in small to large flocks moving in the middle levels of the forest, but also feeds near the ground. It eats mainly grass seeds, fruits and berries, and sometimes insects. It prefers mid- and high-elevation primary forests, and is an uncommon resident in the Central Mountain Range from 850-1800 m.
The Taiwan subspecies of White-throated Laughingthrush has been suggested to be distinct enough to merit elevation to full species status, Rufous-crowned Laughingthrush, G. ruficeps (N. Collar, 2006).
References: N. J. Collar, "A partial revision of the Asian babblers (Timaliidae)", FORKTAIL, Journal of Asian Ornithology, No. 22, August 2006, pp. 85–112; : A Guide to Threatened Birds of Taiwan, BirdLife International Red Data Book, 2005 (Woei-horng Fang); A Field Guide to the Birds of China (Mackinnon and Phillipps); N. J. Collar, "Endemic subspecies of Taiwan birds—first impressions", in Birding ASIA, Number 2, December 2004