Rusty Laughingthrush
Garrulax poecilorhynchus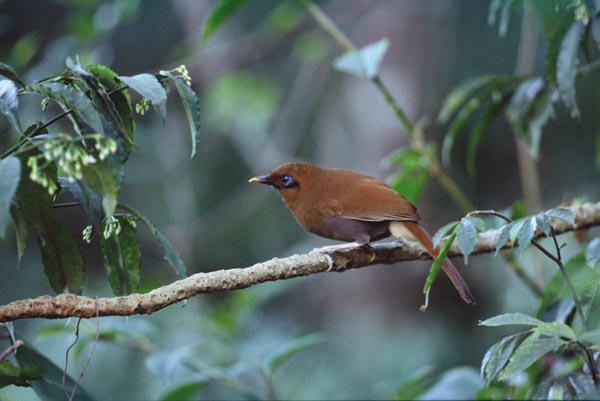 Proposed New Endemic Species
The Rusty Laughingthrush is dark rufous-brown above and on the breast, the head is finely barred blackish, the belly is dark gray, the vent white and the wings and tail are rufous. The chin and cheek are black, and the brown eye is surrounded by a blue patch of bare skin. The bill is blue at the base and yellow on the distal half.
This medium-sized (28 cm) bird is shy, avoiding open spaces and preferring undergrowth at forest edges and the understory of broadleaved mountain forests. It feeds on insects, berries and fruit which it finds on or near the ground, and is usually seen in pairs or small groups. It is an uncommon resident in the lower mountains of Taiwan at 600-2100 m.
It has been suggested that the Taiwan subspecies of Rusty Laughingthrush is distinct enough to merit elevation to full species status (N. Collar, 2006). It is proposed that the Taiwan form retain the original name, while the mainland form would be named Buffy Laughingthrush, G. berthemyi.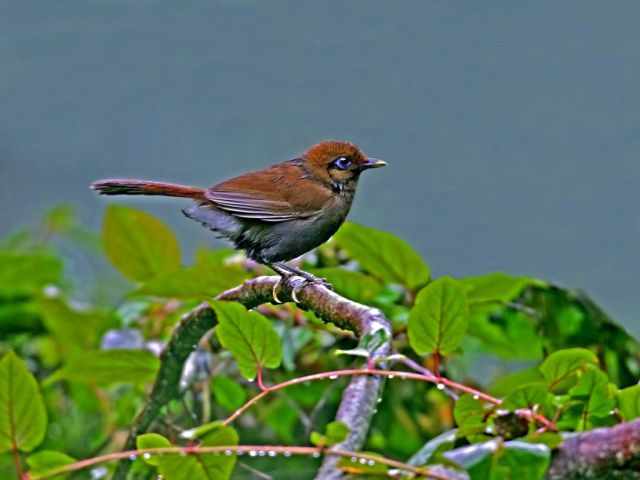 References: N. J. Collar, "A partial revision of the Asian babblers (Timaliidae)", FORKTAIL, Journal of Asian Ornithology, No. 22, August 2006, pp. 85–112; A Field Guide to the Birds of China (Mackinnon and Phillipps); 100 Common Birds of Taiwan (Wild Bird Society of Taipei); N. J. Collar, "Endemic subspecies of Taiwan birds—first impressions", in Birding ASIA, Number 2, December 2004