Varied Tit
Sittiparus varius castaneoventris
Endemic Subspecies
The Varied Tit is a small (11 cm) bird with uniform dark rufous underparts, a black bib, a black cap with a whitish spot on the crown, a light buff forehead and lores and whitish cheek patches. The back, wings and upper tail are gray, and there is a thin rufous border between the upper mantle and the black cap. The iris, bill and legs are black. The Taiwan subspecies castaneoventris is distinctly smaller than mainland races, is deeper chestnut below, lacks the pale median line on the breast and is grayer above with a reduced chestnut border on the upper mantle.
The Varied Tit is relatively shy and secretive. It is usually found in pairs or sometimes in small flocks, feeding in the canopy of the forest. It feeds on insects as well as small nuts and seeds, and will store nuts for later retrieval. The Varied Tit makes a variety of calls, including a sharp "pit", a high-pitched "spit-spit-see-see" and a scolding "ch-chi-chi". Its song is rich and varied, usually including pure whistled notes.
In Taiwan the Varied Tit is an uncommon resident year-round, in forests from mid to high elevations.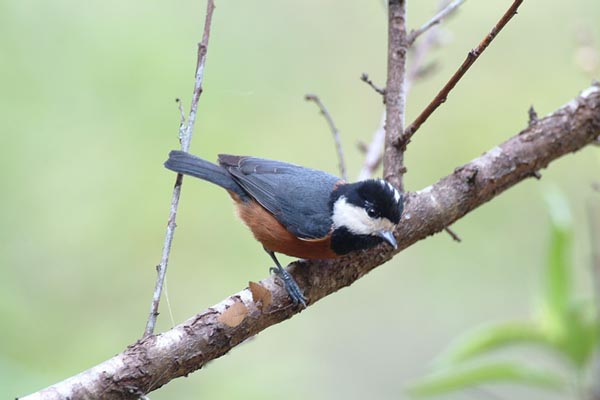 References: A Field Guide to the Birds of China (Mackinnon and Phillipps); 100 Common Birds of Taiwan (Wild Bird Society of Taipei); N. J. Collar, "Endemic subspecies of Taiwan birds—first impressions", in Birding ASIA, Number 2, December 2004