House Swift
Apus nipalensis kuntzi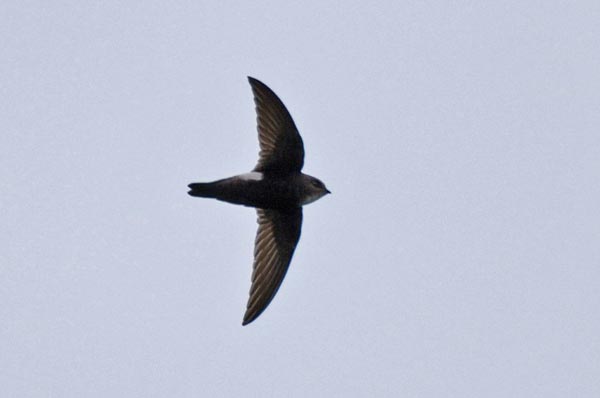 Endemic Subspecies
The House Swift is a small (15 cm) blackish swift with a white throat and rump and a slightly notched tail. The Taiwan subspecies kuntzi is described as having a more heavily streaked rump than mainland races, but differences are unlikely to be visible in the field.
The House Swift feeds on flying insects such as wasps, bees and flies which it catches on the wing, usually at a great height. It often feeds in large flocks and is usually very vocal, giving trills of rapidly-repeated, high-pitched screaming notes. It roosts by hanging from cliffs, bridges and under the eaves of buildings, sometimes in large flocks. Its nest is a large, loose hemispherical structure of plant material and feathers glued together with saliva. It may be placed on a cliff, a bridge or under the eave of a building.
The House Swift is a common resident of Taiwan from the plains to mid-elevation mountain areas, and sometimes at higher elevations.
References: Handbook of Birds of the World Vol. 5; A Field Guide to the Birds of China (Mackinnon and Phillipps); 100 Common Birds of Taiwan (Wild Bird Society of Taipei); N. J. Collar, "Endemic subspecies of Taiwan birds—first impressions", in Birding ASIA, Number 2, December 2004