Cinnamon Bittern
Ixobrychus cinnamomeus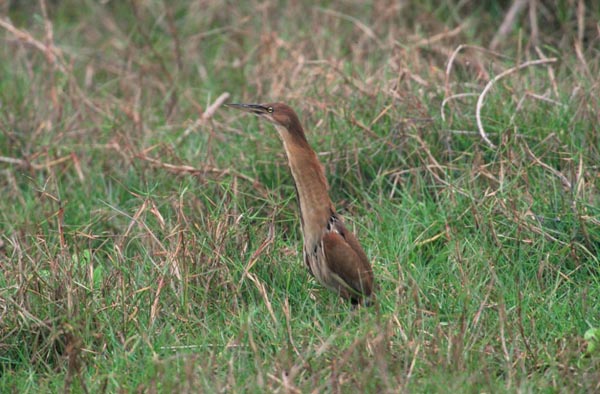 The Cinnamon Bittern is a small (41 cm) heron colored a uniform rich cinnamon above, whitish buff below, with a central stripe of dark streaks down the throat and breast and dark streaks on the flanks. The female is duller and browner. The bill is mostly yellow and the legs and feet are green. The iris is yellow, and the pupil appears bar-shaped rather than round as in the Yellow Bittern, a useful field mark when the wings (black in Yellow Bittern) are not visible.
The Cinnamon Bittern is a shy, solitary bird of grassy areas, paddy fields, freshwater swamps and reed marshes, often near human habitations. It is most active around dawn and dusk, but also feeds in the day, taking fish, frogs, molluscs, insects and crustaceans. Its nest is a platform of small sticks, reeds and sedges lined with grasses and dead leaves and placed on a flattened clump of reeds or in a low tree or bush, usually within a meter or so above water or mud. The female usually lays 3-5 eggs. The chicks are pinkish chestnut, and can climb about in reeds at 10 days of age.
The Cinnamon Bittern is a common resident of Taiwan at low elevations.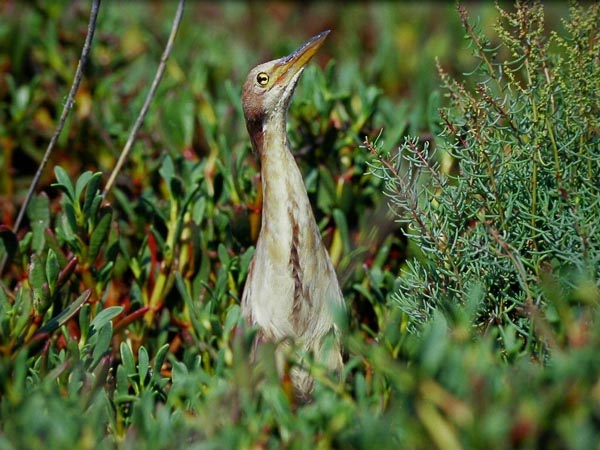 References: A Field Guide to the Birds of China (Mackinnon and Phillipps); 100 Common Birds of Taiwan (Wild Bird Society of Taipei); Handbook of Birds of the World Vol. 1