Yellow Bittern
Ixobrychus sinensis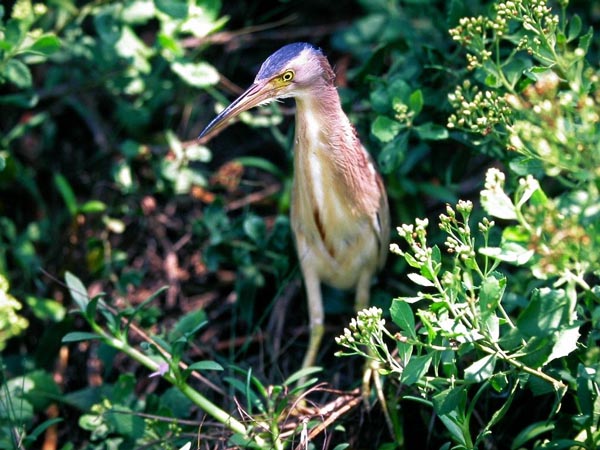 The Yellow Bittern is a small (36 cm) heron with a rufous brown neck and back, a black cap and heavy buff streaking against whitish underparts. The tail and flight feathers are black, the latter being very conspicuous on the flying bird. The bill is greenish-brown, sharp, and slightly longer than the head. The iris is yellow and the pupil round rather than bar-shaped as in the similar Cinnamon Bittern. The bare skin around the eye is greenish yellow, as are the legs.
The Yellow Bittern is secretive and solitary, and is most active at dawn and dusk. It prefers freshwater marshes, riverside shrubs, swamps, rice paddies and flooded fields. It feeds on a variety of aquatic insects, small fish, frogs, crustaceans and molluscs. Its nest is usually built less than 1 m above the water or mud, and consists of a light platform of grass and leaves. The female usually lays 4 eggs, and the young hatch in about 22 days.
The Yellow Bittern is a common resident of Taiwan at low elevations.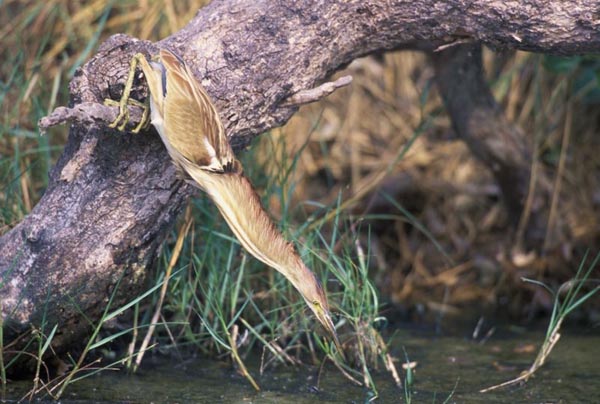 References: A Field Guide to the Birds of China (Mackinnon and Phillipps); 100 Common Birds of Taiwan (Wild Bird Society of Taipei); Handbook of Birds of the World Vol. 1